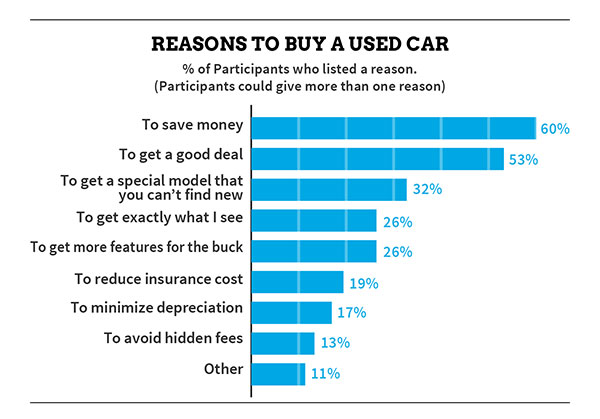 As dealers, you want to match up the right car with the right customer as quickly as possible. It helps you move cars, and it helps turn shoppers into repeat, happy customers. Knowing your audience, their motivations, and preferences is key to your sales success.
In an effort to better understand car shoppers' needs, we conducted a three-week survey in January, 2015. We asked online shoppers currently searching for a used car questions about their car-buying experience and motives. The first question we asked was: Why are you buying a used car?
While the 262 respondents could provide more than one reason, the economics of buying a used cars stood out. 60% of used car shoppers said they bought used "to save money," and another 53% said it was "to get a good deal." Many other responses shared the same end goal of saving money. For example, 17% of car shoppers wanted "to minimize depreciation," and 26% wanted "to get better features for the price." In fact, only two answers did not generally reference saving money: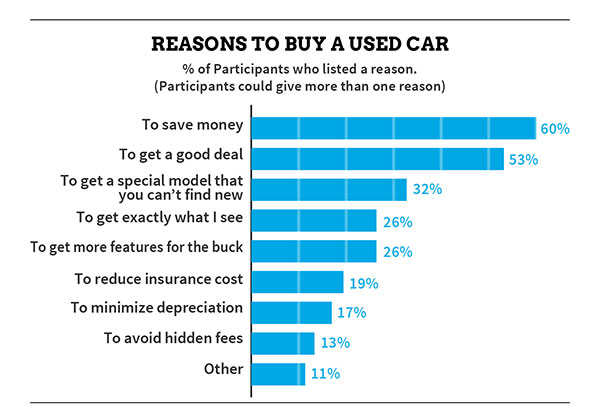 32% of respondents reported buying a used car "to get a special model you can't buy new."
26% of respondents wanted "to get exactly what I see."
This shows the importance of competitive market pricing and highlighting the right features in your car listings and ad copy. Good pricing and accurate merchandising will cover most of the reasons shoppers buy used, but notice that the answers also highlight a niche market: nearly a third of participants wanted "to get a special model you can't buy new." And used car buyers also like the idea of "getting exactly what I see."
For more valuable insights, check out our most recent whitepaper How To Convert Used Car Shoppers To Buyers, or attend DealerOn's webinar Tips & Tricks to Engage Customers and Turn Shoppers into Sales on May 21 at noon EST.
About CarStory
CarStory is the industry's largest provider of crowdsourced data and analytics on used vehicle pricing and preferences. CarStory Market Reports synthesize over four million real-time used vehicle listings with crowdsourced data from over eight million searches a week to produce unique insights that help move consumers from online shoppers to on-the-lot buyers. By uncovering facts, features and competitive differentiators that make each vehicle unique in any given market, CarStory offers dealers and consumers the confidence they need to condense the sales process and walk away happy. A merchandising tool and lead source for websites, CarStory Market Reports are free to auto dealers.