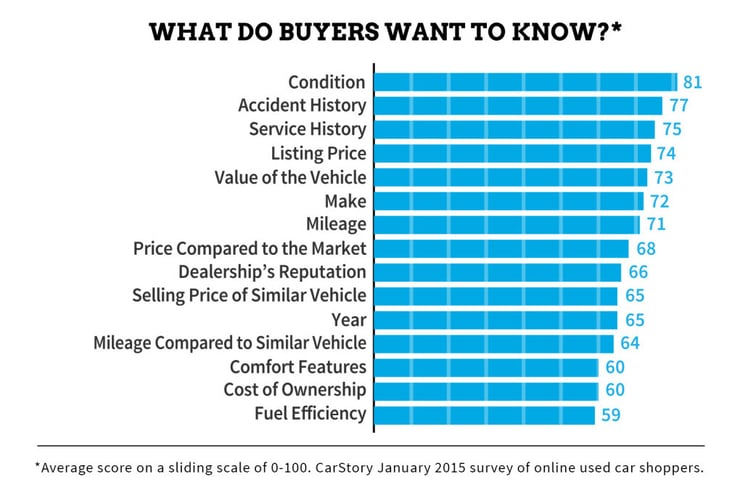 As dealers, you want to match up the right car with the right customer as quickly as possible. It helps you move cars, and it helps turn shoppers into repeat, happy customers. Knowing your audience, their motivations, and preferences is key to your sales success.
We gave a random pool of participants, ages 18 to 65 years, a list of the top 25 used car features as identified by our data science team as being high in consumer demand or influencing used car prices. Each participant selected their "must-haves" from among the list. You may be surprised to see that the top 3 must have features were all audio related and that MP3 was chosen by just under 45% of the respondents. When your vehicles have these "must haves" be sure to call this out. Features can always be specified in the inventory feed you provide to your marketplace partners. But don't stop there.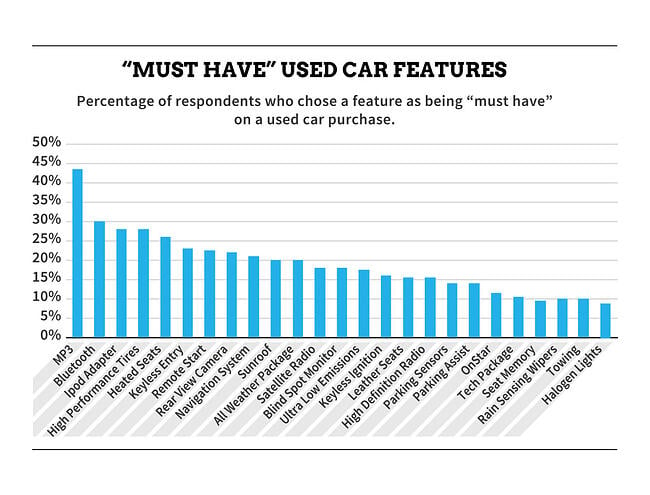 Top Vehicle Detail Points
In addition to asking participants about features, we also asked about vehicle descriptions. For this exercise, we gave the survey participants a list of details that descriptions of used cars commonly include. We asked participants to rate the importance of each detail using a sliding scale. The chart below shows the 15 most important details according to the respondents. As you can see, Condition ranked most important to our participants, but also Accident History (2) and Service History (3), both which are relevant to the overall condition of the vehicle.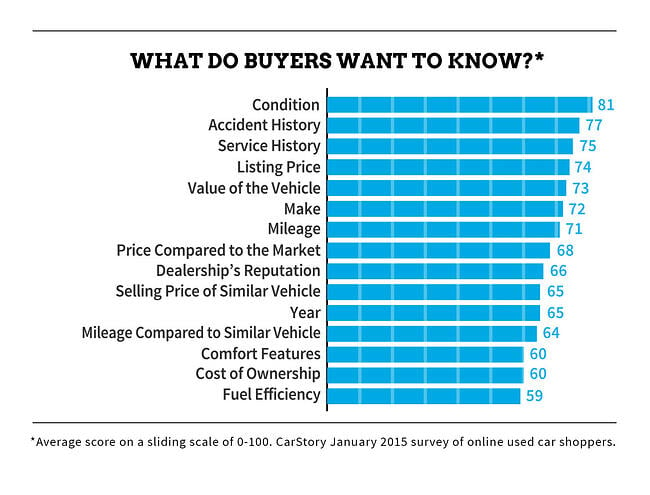 Focus on The Features and Details That Matter
As part of every listing dealers can also add seller comments to better merchandise the vehicle. We were surprised to find that 53% of listings DO NOT include seller comments. What's worse is that the top items mentioned in seller comments are items that are typically included in a standard listing, such as color, price, mpg and mileage.
Furthermore, only 2.4% of comments included some reference to reconditioning information. This is a big opportunity for dealers. Consumers list condition as the number one factor when buying a used car and fewer than 3% of listings actually highlight when reconditioning work has been done.
For more valuable insights, check out our most recent whitepaper How To Convert Used Car Shoppers To Buyers, or watch DealerOn's recorded webinar: Tips & Tricks to Engage Customers and Turn Shoppers into Sales.
About CarStory
CarStory is the industry's largest provider of search and inventory data and analytics on used vehicle pricing and preferences. CarStory Market Reports synthesize over four million real-time used vehicle listings with search and inventory data from over eight million searches a week to produce unique insights that help move consumers from online shoppers to on-the-lot buyers. By uncovering facts, features and competitive differentiators that make each vehicle unique in any given market, CarStory offers dealers and consumers the confidence they need to condense the sales process and walk away happy. A merchandising tool and lead source for websites, CarStory Market Reports are free to auto dealers.