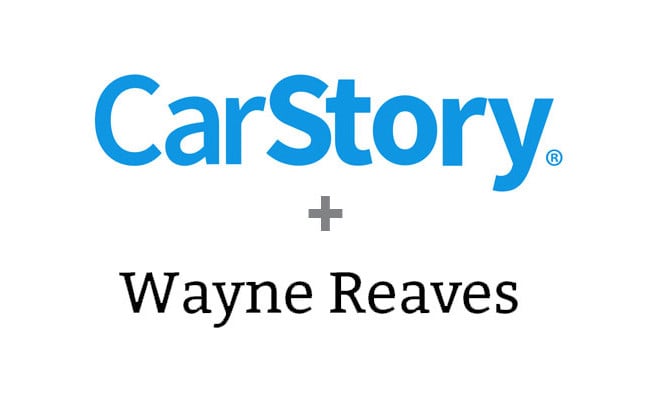 The partnership marks the second customer-wide rollout of the reports by a dealer website provider and grows the CarStory dealer network to more than 3,000 dealerships nationwide.
Austin, Texas (PRWEB) March 23, 2015
CarStory, the industry's largest provider of crowdsourced data and analytics on used vehicle pricing and preferences, today announced that Wayne Reaves, a leading provider of independent dealership websites, has integrated CarStory Market Reports into its customizable website platform. A free merchandising tool and lead source, CarStory Market Reports are available directly on all Wayne Reaves dealership websites.
The partnership is the second in a series of alliances with website providers that make CarStory Market Reports easily available to dealers at no extra cost. CarStory's dealer network now numbers over 3,000 dealerships nationwide.
"Keeping consumers engaged once they land on a dealer website is key to converting web browsers into on-the-lot buyers. CarStory Market Reports' unique market insights speed up consumer purchase decisions and help dealers to sell more cars -- and they are available to dealers absolutely free of charge," said Chad Bockius, Chief Marketing Officer of CarStory. "We are pleased Wayne Reaves has made CarStory Market reports a standard feature for all the websites they build and maintain."
CarStory Market Reports deliver customer preference information on vehicles, including analysis of pricing relative to similar models locally, mileage assessments relative to similar vehicles on the market, as well as the vehicle features valued most by other consumers. In addition, the reports analyze the vehicles consumers are comparing online and recommend alternatives that are most likely to convert that shopper. "This is an industry first that enables dealers to keep consumers looking at more vehicles on their own website versus defecting to a competitor's site," said Bockius.
"Dealers already rely on Wayne Reaves for the best custom websites, and the addition of CarStory Market Reports will further enhance interactions between our dealers and their customers," said Jason Reaves, President of Wayne Reaves. "Dealers know that our solutions help them sell more cars, and this is yet another way to ensure they receive the most innovative and productive tools. We are thrilled to offer these insightful reports to our dealers at no additional cost and are very impressed with how quickly we have been able to integrate them into our platform."
CarStory Market Reports' insights are generated from a combination of more than four million real-time used vehicle listings and crowdsourced data from over eight million searches a week that help move consumers from online shoppers to on-the-lot buyers. Powered by Vast, the industry-leading big data platform for more than 300 automotive marketplaces, the reports give car buyers the whole "story" of a vehicle – educating them on the features most valued by other consumers and validating pricing with real-time market data. The reports also serve as a powerful customer engagement tool for dealership sales personnel, providing a virtual walk around of every vehicle on the lot. With multiple pre-owned models, makes and years for sale at each dealership, the reports help ensure that each salesperson has the important details on the vehicle he/she is showing, which, in turn, can help them convert.
###
About CarStory
CarStory is the industry's largest provider of crowdsourced data and analytics on used vehicle pricing and preferences. CarStory Market Reports synthesize over four million real-time used vehicle listings with crowdsourced data from over eight million searches a week to produce unique insights that help move consumers from online shoppers to on-the-lot buyers. By uncovering facts, features and competitive differentiators that make each vehicle unique in any given market, CarStory offers dealers and consumers the confidence they need to condense the sales process and walk away happy. Learn more at CarStory.com
About Vast
Vast is the premier provider of big data solutions for life's biggest purchases. Vast's industry-leading big data platform and applications are currently in use at many of the largest automotive, real estate and travel businesses in the world. Vast serves Global 1,000 companies, including AOL and Southwest Airlines, and powers more than 300 automotive marketplaces. Learn more at Vast.com
About Wayne Reaves
Wayne Reaves is a leading provider of dealer management software, customizable dealer websites, mobile dealer solutions and web-based title pawn software. As the most trusted name in the digital space, dealers rely on Wayne Reaves solutions to sell more cars, save time and increase productivity. No other digital partner provides dealers with the depth and breadth of experience in the dealer industry. Learn more at WayneReaves.com