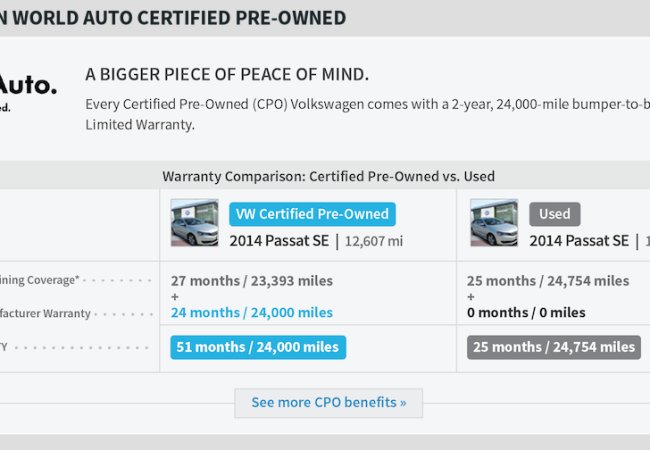 Volkswagen division's certified used-vehicle sales rose 17 percent last month to 7,675. It was the brand's best certified used-vehicle sales for a January and the beginning of a "banner year," said Michael Ashton, VW's senior manager of CPO and used-vehicle operations.
Ashton said the brand's certified used-vehicle sales dipped 1 percent in 2014 because of a dearth of off-lease vehicles for dealers to certify during the first four months.
He said much of the decline had to do with the timing of VW's recurring, 24-month "sign and drive" lease promotions. Supplies increase when vehicles leased under the promotions come off lease, but decline in periods in between.
But now the off-lease pump is primed, Ashton said. He expects dealers to sell a lot more certified VW cars and trucks this year.
"Look at the last six months" of 2014, he said. "We were 8 percent up, year over year, and 12 percent up in the last three months year over year. We broke every record in the last three months [of 2014] except the annual number.
"Our challenge came because we had so little supply in the first four months in 2014 that we could not catch up," he added.
Ashton said sales should also get a boost from a partnership to provide free CarStory Market Reports to VW dealers. The reports help educate consumers about the benefits of certified used vehicles.
The reports, available to dealers for attachment to certified vehicles listed online, include information on mileage, remaining new-car warranty and how certification enhances the warranty. They also remind customers that VW backs the warranty.
CarStory Market Reports are based on data gathered by CarStory's parent company VAST, a provider of big data applications.
VW's 17 percent gain in certified used-vehicle sales last month matched a 17 percent industrywide increase in certified used-vehicle sales to 194,862.
Only three mainstream brands failed to reach double-digit increases and only one, Honda Division, sold fewer vehicles last month than it did a year earlier.
Toyota Division's certified sales rose 6 percent to 27,621 vehicles and Hyundai's sales were up 4 percent to 7,368. Honda Division's certified sales in January dropped 5 percent to 16,590.
In 2014, American Honda and Toyota Motor Sales U.S.A. stood out among major brands in posting lower certified used-vehicle sales. One reason: The companies had fewer certifiable vehicles due to the drop in sales caused by the March 2011 earthquake and tsunami in Japan.
Another reason for the slide at Honda Division was that some dealers had been temporarily suspended from the program for failing to adhere to certification guidelines.