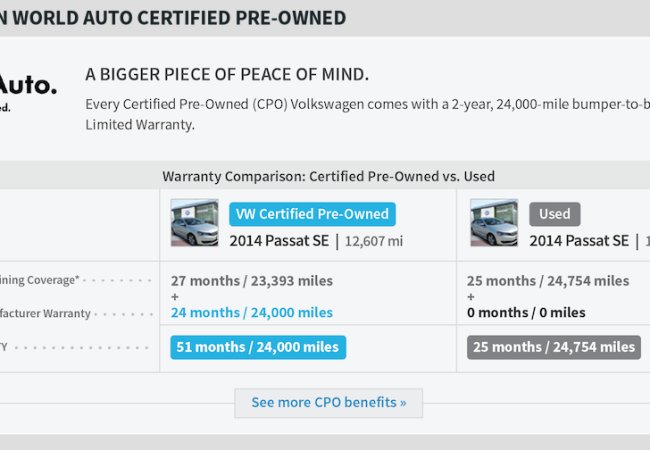 CarStory Market Reports Help Educate Volkswagen Customers and Streamline Purchase Decisions
Today, CarStory announced it was selected by Volkswagen of America to provide free online CarStory Market Reports to authorized Volkswagen dealers nationwide. These Market Reports will introduce WorldAuto® Certified Pre-Owned (CPO) vehicles to customers earlier in the buying process and help build consumer confidence through the presentation and analytics of each vehicle's unique story.
According to a 2014 Auto Trader CPO study, only 45% of used car shoppers are familiar with CPO programs. Yet when asked, they are 38% more likely to consider a CPO vehicle once exposed to program details.[1]
"The key to selling a certified vehicle is to educate the consumer on the program benefits and peace of mind that come with CPO," said Josh Lever, the General Manager of Platinum Volkswagen (NY). "The detailed dealership inspection, limited warranty, roadside assistance – all of these CPO features, when coupled with the CarStory Market Report, quickly demonstrate the value of a vehicle and the entire CPO program."
Michael Ashton, Senior Manager of CPO and Used Car Operations at Volkswagen said: "Our mission is to create advantages for our dealer network that drive traffic. The CarStory Market Report does just that by providing the right type of vehicle analytics for consumers to educate themselves on the perfect Volkswagen vehicle earlier in the purchasing process."
"We are excited to show how CarStory can help Volkswagen build customers for life by enhancing the car buying experience with our unique market insights," said John Price, CEO of CarStory parent company Vast. CarStory's proprietary database of supply and demand insights is the largest in the automotive industry.
CarStory Market Reports, customized for the WorldAuto program, are currently available to Volkswagen dealerships free of charge on all pre-owned, Certified Pre-Owned, and Qualified Pre-Owned vehicles. Volkswagen dealerships that wish to sign up for CarStory can go to bitly.com/vwcarstory.
Not a Volkswagen dealer but interested in adding CarStory to your site? Sign up for free now.
Every car has a story. CarStory uses a massive database and industry-leading big data insights to tell that story. By uncovering the facts, features and competitive differentiators that make each vehicle unique in any given market, CarStory offers dealers and consumers the confidence they need to condense the sales process and walk away happy. Learn more at CarStory.com.
About Vast
Vast is the premier provider of big data solutions for life's biggest purchases. Vast's industry-leading big data platform and applications are currently in use at many of the largest automotive, real estate and travel businesses in the world. Vast serves Global 1000 companies such as AOL and Southwest Airlines, and powers more than 300 automotive marketplaces. Learn more at Vast.com.