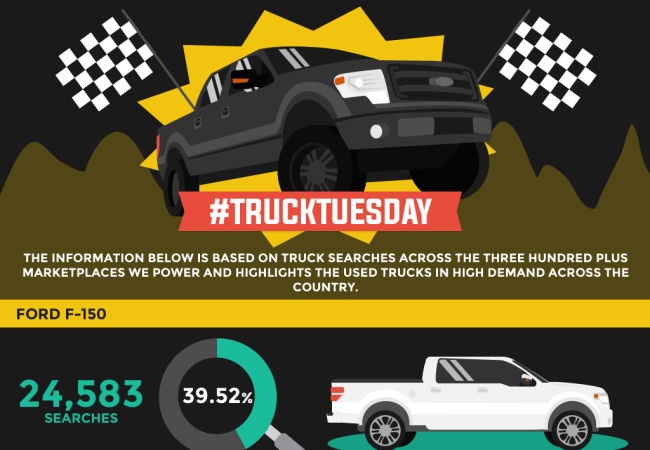 If you wear a 10-gallon Stetson hat, make a living swinging a hammer or have ever owned a pair of Red Wing boots, you probably have a pickup truck. Trucks are more American than mom's apple pie — or Walmart, depending on your social circle.
Trucks never go out of style, the market just keeps growing. Now — in addition to Detroit's big three — Nissan, Toyota and Honda have entered the full-size truck market. With so many options to choose from, which truck manufacturer gets the most searches from internet shoppers?
Which Truck Is Top In Online Search?
To answer this question, CarStory used extensive data analysis drawn from the more than three hundred used car marketplaces it powers. The results paint a clear picture as to what web-savvy buyers are looking to buy. During this analysis, the CarStory Data Science Team looked at searches from the first week of October 2014.
Ford F-Series Is The Top Selling Truck
The Ford F-series has been the bestselling truck in America for an eternity, so it's of no surprise that Ford's workhorse also picked up the most online hits. The F-150 scored 39.52% of all searches.
Chevrolet Silverado 1500 scored second place, racking up 15.47% of truck searches. However, if you include searches for Chevy Avalanche and Chevy C/K 1500 – which is just another designation for Silverado – the bowtie clan picks up 21.54% of searches. If you toss Suburban in there – which is technically an SUV – the total becomes 28.09%.
If you take GMC Sierra 1500 as a standalone brand, the General only received 6.76% of internet fame. But, if you do what any reasonable car buff would do and add GMC and Chevy together, you get 34.85%, bringing total GMC numbers close to that of Ford's F150.
It's confusing as to whether we should refer to a Dodge Ram as a Dodge anymore, since Chrysler has decided to make Ram its own brand. Nevertheless, internet users are still typing in queries for Dodge ram, gaining the longhorn 8.20% of all searches.
Toyota decided to take Dodge by the horns by gaining 9.56% of the pie. The other Japanese nameplates didn't fare as well with Titan picking up 2.68% and Ridgeline snagging 2.59%.
Our CarStory Infographic: Truck Data
All of this data is useful if you're into following auto trends for business or pleasure. If there's an F150 parked in your garage or – on your sales lot – it's a hot commodity. That goes for GM half ton trucks, too. As such, these rigs hold their value and are typically easy to sell.


The moral of the story is: don't give your truck away, just wait for that buyer in the 10 gallon Stetson to come along.
For all your truck lovers out there, let us know what other insights you would like to see. We will keep them coming on Truck Tuesday.
Dealers, did you know? CarStory is the home of CarStory Market Reports.
CarStory Market Reports:
• are independent research
• merchandise every vehicle (including off-make)
• use local market data
CarStory's goal is to:
• build consumer confidence and
• accelerate purchase decisions
CarStory's proprietary database of supply and demand insights is the largest in the automotive industry. If you haven't already signed up for our free CarStory Market Reports do it today.