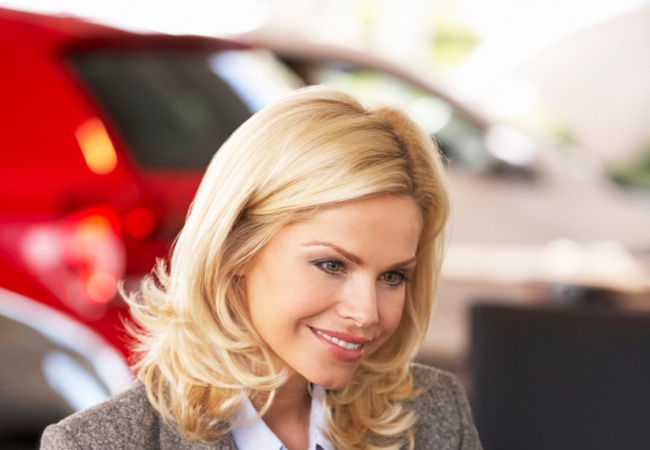 Here are some tips for selling a car on craigslist. But first, let me share with you my personal experience with selling Janna's car on Craigslist. It was a 2000 Honda Passport which Janna had owned before we were married. I never really liked the car that much and I enjoyed teasing Janna that it was actually an Izuzu; it really is, by the way. It was about time for some real work to be done on the vehicle and we needed a vehicle that could seat more and pull more. It sat parked in the backyard for a couple weeks after we bought our 2007 Suburban, then I finally mustered up enough motivation to sell the thing on craigslist. Here's what I did.
Selling Your Car on Craigslist
1.) Sign up on craigslist.com – I wouldn't sell my car on eBay, the fees are too much and you have to work with someone through Paypal thus adding on more fees. Craigslist is free. Free to post, free to browse. Get an account with them so you can post an ad.
2.) Title – If you own the car make sure to have the title in hand. If the bank still owns the car, the transaction will need to take place at the bank where the loan is held. You should call your bank before ever listing your vehicle to know the process. Some banks may not allow this sort of transaction unless you pay the loan off first.
3.) Bill of sale – Some states require a bill of sale. Here's a template. Don't forget to print 2 copies, one for you and one for the new owner.
4.) Set a Price – Know the price you want for the vehicle. Do some research on kbb.com and find out what your vehicle is worth. When you list the vehicle on craigslist, always always always list it for more than what your willing to take. I listed the passport for $2800. I wanted at least $2000 and I ended up with $2300. You are going to get haggled down because nobody on craigslist pays full asking price. Remember it's basically a huge yard sale.
5.) Pictures – Take lots of pictures! I can't stand looking at a big purchase item on craigslist like a car that has two pictures on the post that were taken with an old school flip phone in the dark. You will not sell your car this way. Because craigslist doesn't allow you to upload very many pictures (post as many as you can) I suggest opening a flickr account and uploading pictures there, (it's free) then share the link in the post mentioning that additional pictures can be found there. Here's my example. Be sure and take pictures of everthing you can think of especially the bad stuff like; chipped paint, dents, stains, and any other sort of damage. You may as well not hide it, they will find out anyway. This ties in well to the next item of business…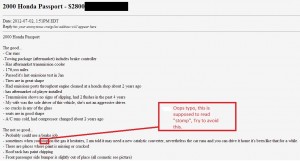 Click to enlarge
6.) Be honest – As you can see in my craigslist ad, I mention the good and the bad. Really you would not want to be mislead into thinking a car is something vastly different than what an ad led you to believe. Just be overly honest, in fact be more critical of the car than anything, then when they come to see it in person, chances are they will be pleasantly surprised.
7.) Be quick – Have you ever seen an ad that has 3 paragraphs smashed all together with no line breaks or bullets? It's hard to read! I find myself reading the same line twice sometimes because it's all so jumbled together. Do your buyer a favor- spend a little time formatting your post and use bullets when possible. Keep on topic, make the post just about the car, no rants.
8.) Meeting place – Be prepared and know where you'll likely meet them. I like to meet at grocery stores during the day. Most people understand this and are willing to do this. It's for your safety, you never know.
9.) Cash – I'd suggest including in your post that you only deal in cash. Don't entertain deals where they make monthly payments to you. You'll likely end up on Judge Judy in small claims court trying to explain why you were so stupid to make a deal like that with someone you don't know. She'll probably call you stupid too by the way.
10.) Take the plate – In most states I think it is common practice for the previous owner to remove the plate. It can then be transferred to your new vehicle. Don't forget tools to remove the lisence plate. Here's what wikipedia says about it…
"When a vehicle is sold, the disposition of the license plates depends on state law and varies by state. In some states, license plates are transferred with the vehicle to its new owner. In other states, the license plates remain with the seller, who may, for a fee, transfer the license plates and any unused portion of the current registration to a new vehicle. Some states issue a new plate whenever the car is sold."
Shortly after posting the Passport on Craigslist, I received a phone call from someone that was interested. All in all, it took 3 hours from posting the car to having money in my hands. So make sure your ready for that call. Good Luck!
What tips do you have for selling a car on Craigslist?
If you have any great tips, we'd love to hear them in the comments. Tell us.
Jesse
Looking for a way to save money? Try BillCutterz.