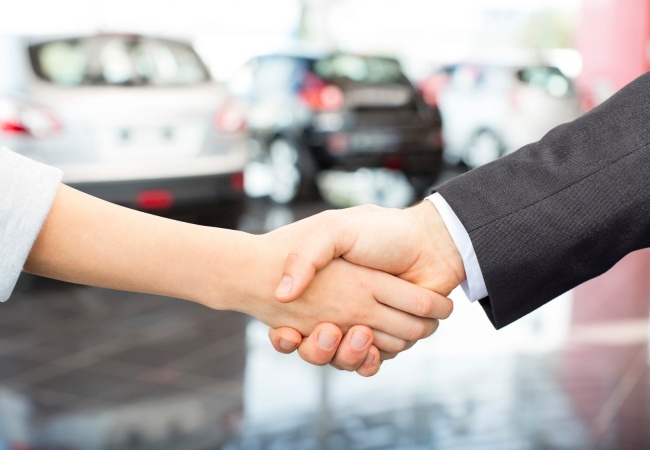 I remember the first day I started in the car sales industry. My dad gave me my training. He showed me to my desk, wrote down six things, and said go get'em. I was a little confused with just six things written down with his green managers pen, but I figured I was a natural and didn't worry. I even closed a sale with my very first customer. By the end of the year, I was one of the top sellers. But then things tapered off. Why?
Seven Steps to Selling Cars
Looking back, I realize now what I didn't know at the time about buying cars and selling cars. Watching others helped me get to a better place after things had started to slow down. That's how I realized that the secret to selling a high volume of cars with good gross was going back to the basics: listening to the customers wants and needs and building a relationship with the customer.
Once you know how to build trust by being genuine and listening, objections are easy to overcome and referrals come in weekly, as well as people you've sold to in the past. Keep in mind you will have a 10 times higher closing ratio for referrals, previous customers and appointments. I was starting to grow again, as well as my income, and I wasn't going to let it stop.
So here I am sharing the six I was taught plus the seventh I've learned. The most important thing to keep in mind when it comes to car sales is that you are going to make a great living in this business if you're good at building relationships, being honest, and taking care of your customers.
Seven Steps to Sell a Car
Meet and Greet For Car Sales
Give a professional handshake looking every customer in the party directly in the eyes not in an aggressive way, or overbearing way, stating your full name, and if they do not give theirs, ask for their name first and last and then repeat it.
Establish Rapport With Customers
This is where true professionals get to work. Start finding common ground, likes and interests. This is the most important part in building a good relationship in car sales. From here you get an idea of what they want and how to ask the right questions.
Walk the Car Lot, Check Inventory
This is where you get an idea of their picture, and what they want in their driveway. Now you show them the nicest vehicle on your lot that's closest to their budget and wants that is in inventory.
The Test Drive
This is where you have used your skills to land them on a vehicle they are willing to pay for. You should use all your skills and talents to show them every option— especially, safety, technology, and economy features— to create excitement and show them the value of the car.
Ask for the Car Sale
This is where professionals separate themselves from novices. As a car sales professional, you know you have properly introduced yourself and listened and followed all the other key steps up to this point. Now, you need to close the deal. And, to start, you need to ask for the sale. Repeat the key selling points and ask for the sale.
Start the Write Up
This is where a true professional realizes that he or she did everything the customer wanted in the car sales process and stays away from the vulnerable stages of the close and moves towards the completion and final paperwork.
Final Delivery
This is the final point. Reiterate what you agreed on, state the products they choose and do you best to entertain them through the boring paperwork process. You've found what they want and you've closed the sale.
This blog was written by NW&A Principal, Lead Trainer and motivator Noel Walsh from Ann Arbor, Michigan. As the creator of Conquer What You Chase sales training paired with enthusiasm, drive and determination there is much more to come so be sure to follow.