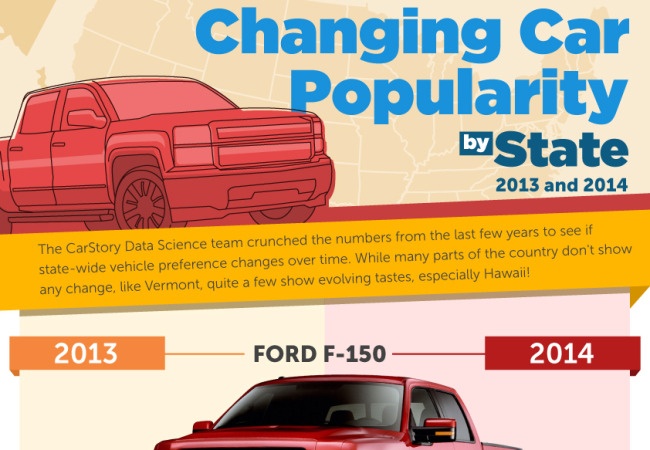 It is common knowledge that California is famous for Hollywood and beaches, and Texas is all about cowboys and steers. These states are also known however, for the Toyota Camry and Ford F-150. In the golden state, Camry racks up more internet searches than any other vehicle. In the lone star state, it's F-150.
Top Trucks and Cars By State in 2013 and 2014
CarStory has gathered data from the leading used car marketplaces to determine the most popular vehicles in each state. For the most part, looking at the data reaffirms stereotypes regarding state-wide auto trends. After all, it's not much of a surprise that the cowboys in Texas dig F-150s, or that the eco-conscious Californians love Camry's. The data was collected for the years 2013 and 2014, and during that period, many changes occurred.


American's love their big, beefy trucks – much to the dismay of Europeans who pay $10 per gallon for gas. Because of the Yankee affinity for crew cabs and long beds, the battle for supremacy between Ford F-150 and Chevy Silverado has always been fierce. Between 2013 and 2014, Silverado stole the 'most popular' slot away from F-150 in Alabama, Minnesota, North Dakota and West Virginia. Conversely, Silverado gave up its champion title to F-150 in Maine and South Dakota.
And what about Dodge Ram? The long horn only managed to steal the limelight from F-150 once – in Alaska.
Another heated battle for car sale website supremacy was between Honda Accord, Nissan Altima and Toyota Camry. In Connecticut, Nissan Altima stole the show from Honda Accord, but in Delaware the roles were reversed, with Accord coming out on top. Accord managed to earn more mouse clicks than Camry in Massachusetts, but Camry won over Accord in South Carolina.
In addition to the auto trends mentioned above, there were a few other noteworthy changes between 2013 and 2014 – some of which left us scratching our heads.
Arizona: Nissan Altima 2013 to Chevy Silverado 2014. Gas may be cheaper but water is still invaluable.
District of Columbia: Volvo S60 2013 to Volkswagen Jetta 2014.
Georgia: Ford F-150 2013 to Toyota Camry 2014. Apparently, Georgians got tired of spending big bucks on gas.
Hawaii: Honda Civic 2013 to Toyota Tacoma 2014. Because bigger is better, even on an island.
Nevada: Toyota Camry 2013 to Toyota Corolla 2014. May the best Toyota win.
New York: Honda Accord 2013 to Jeep Grand Cherokee 2014. Folks in NY must have finally realized Accords don't fare too well off-road.
North Carolina: Ford F-150 2013 to Toyota Camry 2014. Another truck to car switcheroo.
Oregon: Toyota Camry 2013 to Ford F-150 2014. Are gas prices really that cheap in The Beaver State?
Pennsylvania: Ford F-150 2013 to Ford Escape 2014. A little downsizing, but still a blue oval.
Rhode Island: Volkswagen Jetta 2013 to Ford F-150 2014. From Germany sled to American workhorse, and it's anyone's guess as to why.
Tennessee: Ford F-150 2013 to Nissan Altima 2014. It looks like moving their plant to Smyrna won over a lot of Tennesseans
CarStory and Big Auto Data
As you can tell, the CarStory team loves automotive big data. These studies really make you think about the forces that influence automotive trends. Plus, they're useful for marketing, too. If 2013 and 2014 are any indication, American's haven't changed much – they're still willing to pay-at-the-pump to drive their favorite pickup. After all, this is America and we love the F-150 – go big or go home.
Dealers, did you know? CarStory is the home of CarStory Market Reports.
CarStory Market Reports:
• are independent research
• merchandise every vehicle (including off-make)
• use local market data
CarStory's goal is to:
• build consumer confidence and
• accelerate purchase decisions
CarStory's proprietary database of supply and demand insights is the largest in the automotive industry. If you haven't already signed up for our free CarStory Market Reports do it today.