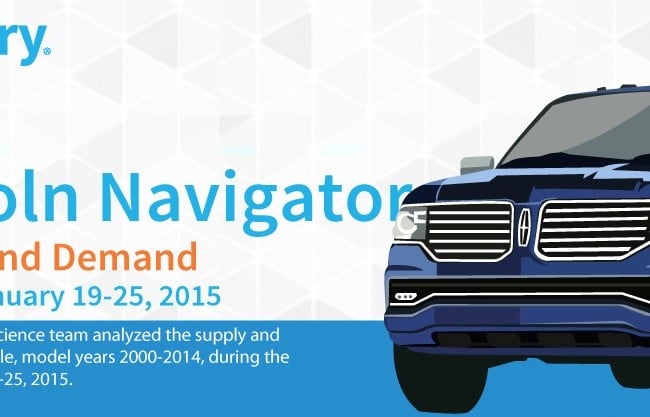 Ask a handful of people what Presidents' Day is meant to recognize, and you are likely to get a bunch of different answers. While the U.S. government still refers to the holiday as Washington's Birthday, there is really no consensus on who, or what, the holiday represents. In fact, people can't even agree on the spelling; is it presidents or presidents'?
History of the Lincoln Navigator
Since no one can agree on the true meaning of Presidents ' Day, we have decided to take the opportunity to celebrate the Lincoln Navigator, a full-size SUV named after our favorite president. The Navigator has been built by the Ford Motor Company for its luxury division, Lincoln, since 1998. It was Lincoln's first SUV as well as its first four-wheel drive vehicle.
So, is the Lincoln navigator loved like J.F.K., or unpopular like Nixon? To get a handle on Navigator sales trends, we turn to CarStory whose proprietary database of supply and demand insights is the largest in the automotive industry.
First Generation Lincoln Navigator (1998 – 2002)
Though the Navigator debuted in 1998, CarStory begins their analysis with the 2000 model year. These first generation Navigators were basically Ford Expeditions for the privileged set, as they were based directly on the Expedition chassis. They also shared the same 5.4 liter V-8 engine. In an attempt to distinguish it from its brethren, the Navigator got a generous helping of exterior chrome and gussied up interior. A total of 9 of these vehicles were found for sale online with an average price of $7,494 and 137,169 miles on the odometer. Average demand was 3.16%.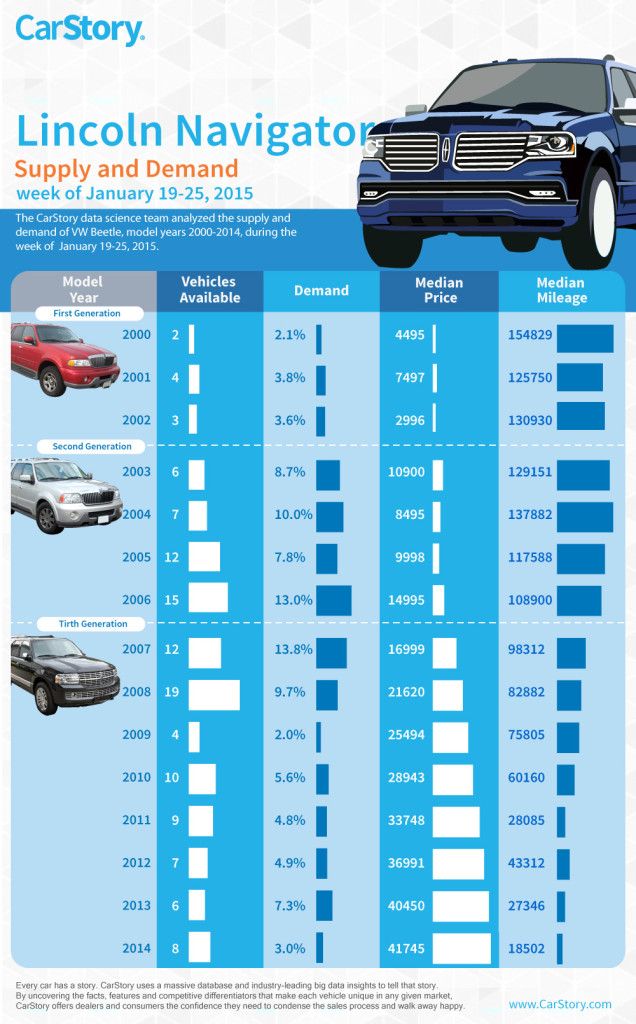 Second Generation Lincoln Navigator (2003 – 2006)
The Navigator was completely redesigned for 2003. Although it still shared a platform with the Ford Expedition, it varied more in terms of styling and luxury appointments than the first generation. The big Lincoln continued to be the perfect vehicle for towing all your toys in perfect comfort, while sipping on a fancy $5 bottle of water infused with "electrolytes". There were a total of 40 of these SUVs for sale with an average price of $11,097 and 123,380 on the clock. Average demand was 9.875%.
Third Generation Lincoln Navigator (2007 – Present)
In 2007, the current generation Navigator rolled out onto the streets – and into Whole Foods parking lots everywhere. This was the most distinctive update since the rigs introduction, incorporating new front and rear fascias, as well as side cladding. In 2015, a new engine became available for the first time, the Ecoboost 3.5 liter V-6. Online, 75 of these vehicles were found for sale with an average price of $30,748 and a scant 54,300 miles on the ticker. Average demand was 6.39%.
So there you have it – 17 years of Lincoln navigators to commiserate 226 years of U.S. presidents. Maybe this year, while you're unwinding on Presidents' Day, you'll be thinking of a different kind of Lincoln – the four-wheel drive kind.
Dealers, did you know? CarStory is the home of CarStory Market Reports.
CarStory Market Reports:
• are independent research
• merchandise every vehicle (including off-make)
• use local market data
CarStory's goal is to:
• build consumer confidence and
• accelerate purchase decisions
CarStory's proprietary database of supply and demand insights is the largest in the automotive industry. If you haven't already signed up for our free CarStory Market Reports, do it today.