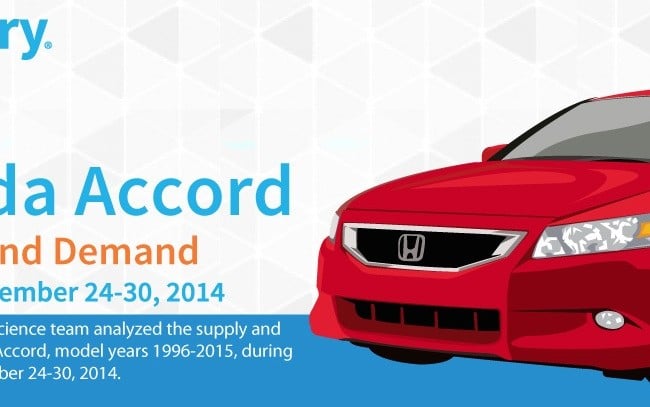 You know what you're getting with the Honda Accord. It's practical, reliable and devoid of surprises. It's like that sturdy friend you can lean on and trust to be the DD—because you know at the party, they won't be taking their shirt off and getting wild. It's that consistency that has allowed the Accord to remain one of the bestselling vehicles in the United States since 1989.
History of the Honda Accord
In case you're not familiar with this rolling paradigm of sensibility, it's a mid-size/full-size car that has been manufactured since 1976. While it's best known for its four-door sedan variant, over the years it has also been offered as a coupe, wagon, hatchback and a crossover. It was also the first Japanese car to be produced in the United States. The Accord has racked up many awards, including making the Car and Driver 10Best list a record 28 times.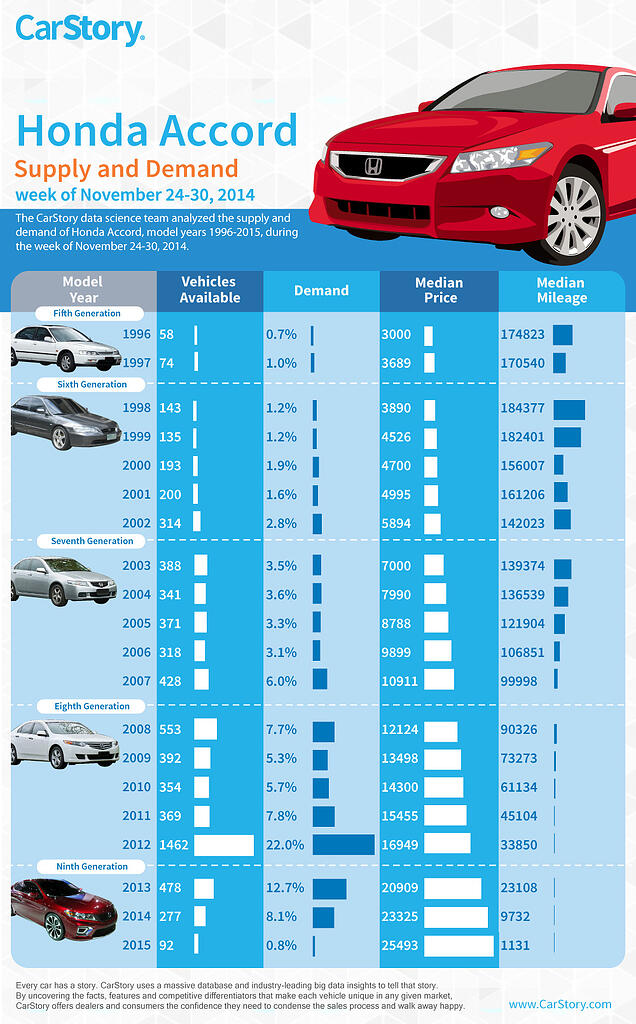 History of Honda Accord Sales Trends
To better understand Accord sales trends, we turn to CarStory whose proprietary database of supply and demand insights is the largest in the automotive industry. CarStory begins their study with 1996 models, which are part of the fifth generation (1994-1997) of Accords. A total of 132 examples were found for sale online, with an average price of $3,344 and 172,682 miles on the odometer. Demand for these cars averaged .85%. It's common knowledge that with proper maintenance, an Accord will last longer than a fully-wrapped Twinkie (which literally has a shelf life of a bazillion years). This is why even with age and high miles, Accords are still sought after.
Sixth Generation Honda Accord (1998-2002)
The sixth generation Accord (1998-2002) blazed – or rather discreetly rolled – onto the compact car scene in late 1997. The new model increased in size, and the greasy bits were tweaked a little, but the Accords underlying character remained unchanged. CarStory rounded up 985 of these cars online, with an average price of $4,801 dollars and 165,203 miles of recorded use. Demand came in at 1.74%.
Seventh Generation Honda Accord (2003-2007)
To compensate for burgeoning Yankee waistlines, the North American version of the seventh generation Accord (2003-2007) grew again. A hybrid model was also introduced in 2005. Scouring the interweb yielded 1,846 of these cars with an average price of $8,917 and 120,933 miles on the clock. Average demand was 3.9%.
Eighth Generation Honda Accord (2008-2012)
By the time the eighth generation Accord (2008-2012) rolled around, it had grown to the point that it could no longer be classified as a compact car. Instead, the Environmental Protection Agency (EPA) reclassified it as a full-size car – for the super-sized crowd. A total of 3,130 of these cars were found for sale with an average price of $14,465 and 69,737 miles on the odometer. Average demand was 9.7%.
Current Generation Honda Accord (2013-Present)
The current, ninth generation Accord (2013-present) was redesigned from the ground up. New powertrains were made available, as well as a plug in hybrid for the Greenpeace set. Depending on your age, buying an Accord that's only a couple years old means the car may very well outlive you. Given the fact that Accords last eons, a low mileage, late model variant will likely last a very, very long time. CarStory located 847 of these cars online with an average price of $23,242 and an odometer reading of 11,324 miles. Average demand was 7.2%.
Flashy new cars may come and go like the latest pop music sensation, but the Accord carries on, tried and true. Here's to another 39 years of practicality and dependability.
Dealers, did you know? CarStory is the home of CarStory Market Reports.
CarStory Market Reports:
• are independent research
• merchandise every vehicle (including off-make)
• use local market data
CarStory's goal is to:
• build consumer confidence and
• accelerate purchase decisions
CarStory's proprietary database of supply and demand insights is the largest in the automotive industry. If you haven't already signed up for our free CarStory Market Reports, do it today.