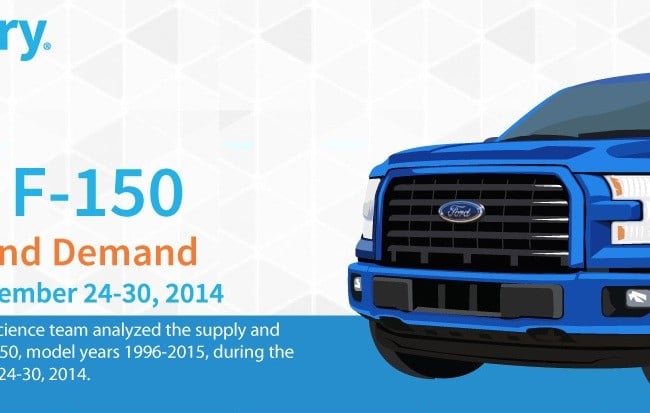 The Ford F-150 doesn't just attract cowpokes in ten-gallon hats, or guys with grease under their nails and Red Wings on their feet. F-150 has been the bestselling vehicle in North American for the past 32 years, and Canada for 43 years. So, F-150 appeals to, well, just about everyone.
The History of the Ford F-Series Truck
Way back in 1948 the Ford F-Series made its debut, and in case you aren't familiar with the F-150 (i.e. you've been living under a rock) it's a full-size, half-ton pickup truck. Over the years, it's been offered in a wide range of configurations including four-wheel drive and rear-wheel drive, single cab, crew cab and double cab, short bed and long bed – you get the idea. Its versatility, as well as its dependability, are some of the reasons for the trucks' long lasting success.
F-150 Truck Sales Trends
To better understand current F-150 sales trends, we turn to CarStory whose proprietary database of supply and demand insights is the largest in the automotive industry. Although the F-150 has been on sale for more than a half century, the supply of F-150s prior to 1996 is in the single digits or for some years, non-existent. Therefore, CarStory has chosen to begin their reporting during the year 1996.
Ninth Generation F-150 (1992-1997)
The year 1996 marks the final year of the ninth generation F-150 (1992-1997). These were tough looking trucks, with a square profile and high ride height. CarStory located a total of 31 of these vehicles online with an average price of $3,991.00 and 160,000 miles on the odometer. Average demand was 0.2%.
Tenth Generation F-150 (1997-2003)
Next, CarStory took a look at the tenth generation (1997-2003). For the first time since 1980, the F-150 was redesigned from the ground up, making it more efficient and aerodynamic. These trucks are virtually indestructible – you can drive them like a stunt car from the Dukes of Hazzard and they still won't quit. People know these trucks last two, three, even four hundred thousand miles, so they hold their value well. CarStory found 1,604 of these vehicles for sale with an average price of $6,583 and 157,537 miles registered on the dash. Average demand came in at 1.37%.
Eleventh Generation F-150 (2004-2008)
The F-150 got another complete overhaul in 2004. This marks the first year of the eleventh generation (2004-2008), which got new sharper-edged styling and the stepped driver's window from the Super Duty trucks. These trucks are strong enough to arm wrestle Chuck Norris, yet refined enough to transport a sleeping baby, which is why everybody wants to own one. A total of 2,384 of these four-wheeled beasts of burden were found online, with an average price of $14,717 and 108,260 miles on the ticker. Average demand was 4.93%.
Twelfth Generation F-150 (2009-2014)
Moving on, we come to the twelfth generation F-150 (2009-2014). There's a lot to love about these trucks, such as their Super Duty-style grilles and available EcoBoost engine. The SVT Raptor, a drool-inducing dedicated off-road rig, also made its debut in 2010. Trolling the internet revealed 5331 of these trucks for sale, with an average price of $27,667 and 48,846 miles traveled. Average demand was 11.1%.
Current Generation F-150
Finally, we come to the 2015 F-150, which marks the beginning of the thirteenth generation. For 2015, the F-150 has been completely – and we mean completely – redesigned. It's the first truck to employ aluminum in construction of the body and bed. Plus, there are a slew of efficient new EcoBoost engines to choose from. These trucks are brand new, so CarStory only found two specimens for sale online with an average price of $58,845, 0 miles on the odometer and an average demand of .1%.
Considering the fact that the F-150 has been America's bestselling vehicle since the A-Team debuted and Return of the Jedi was in theaters, it's not likely you'll see it disappear anytime soon. And for anyone who needs a sturdy rig that can do it all, that's a good thing.
Dealers, did you know? CarStory is the home of CarStory Market Reports.
CarStory Market Reports:
• are independent research
• merchandise every vehicle (including off-make)
• use local market data
CarStory's goal is to:
• build consumer confidence and
• accelerate purchase decisions
CarStory's proprietary database of supply and demand insights is the largest in the automotive industry. If you haven't already signed up for our free CarStory Market Reports, do it today.