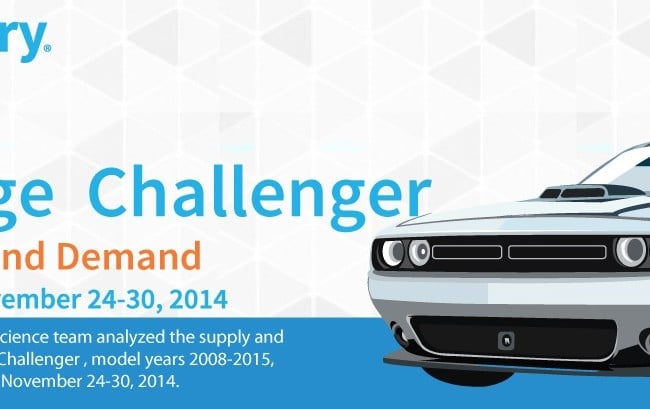 What has 707 horsepower, 650 lb-ft of torque and an exhaust note that could drown out a Metallica concert? The 2015 Dodge Challenger SRT Hellcat. Though the Hellcat is most powerful muscle car ever, it isn't the first Challenger to make girls in short skirts – and guys with long mullets – swoon. The first Challenger rumbled off the assembly line way back in 1969.
3rd Generation Dodge Challenger
Fast forward to 2008 when our story really begins – with the introduction of the third generation (2008 – present) Dodge Challenger. The new Challenger was a rip-roaring throwback to the famous Dodge muscle car of yore, and of course, it was available with a HEMI V-8. Reintroducing the Challenger to its roots brought a lot of attention to the name plate – and a lot of sales.
Dodge Challenger Retail Trends and Data
By analyzing our proprietary database of supply and demand information – the largest in the automotive industry, CarStory has been able to gain some insight on late model Challenger retail trends. A total of 720 third generation Challengers were found for sale throughout the internet. These new era muscle cars hold their value – CarStory found the average price to be $24,640 with 28,063 miles on the odometer. And they're desirable too, with a demand of 12.5%.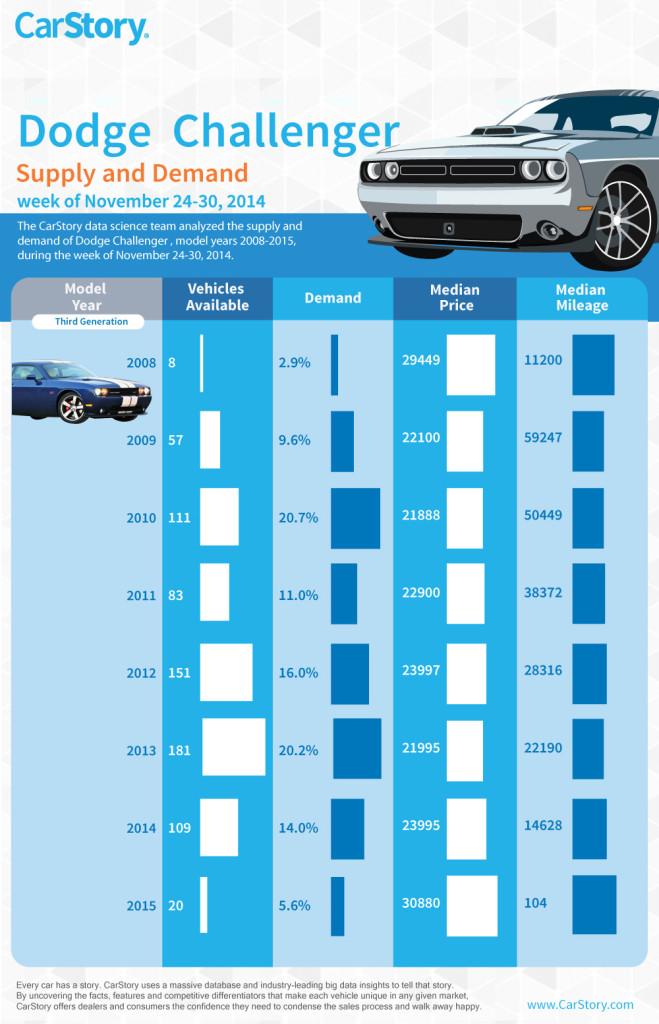 The production year with the least examples for sale was the inaugural year, 2008. There were only 8 of these cars for sale with an average price of $29,449, 11,200 mile and a demand of 2.9%. There were 20 examples of the current model year Challenger for sale. These hot rods scored an average price of $30,880, with only 104 miles and a demand of 5.6%.
In an era where manufacturers are scrambling to release condensed, four-cylinder cans on wheels, it's reassuring to know cars like the Dodge Challenger exist – driver's cars that focus more on horsepower per cubic inch than miles per gallon. After all, burning through a gallon of gas between stop lights while rocking out to White Snake is therapeutic – and it might even make you think about growing back that mullet.
Dealers, did you know? CarStory is the home of CarStory Market Reports.
CarStory Market Reports:
• are independent research
• merchandise every vehicle (including off-make)
• use local market data
CarStory's goal is to:
• build consumer confidence and
• accelerate purchase decisions
CarStory's proprietary database of supply and demand insights is the largest in the automotive industry. If you haven't already signed up for our free CarStory Market Reports do it today.