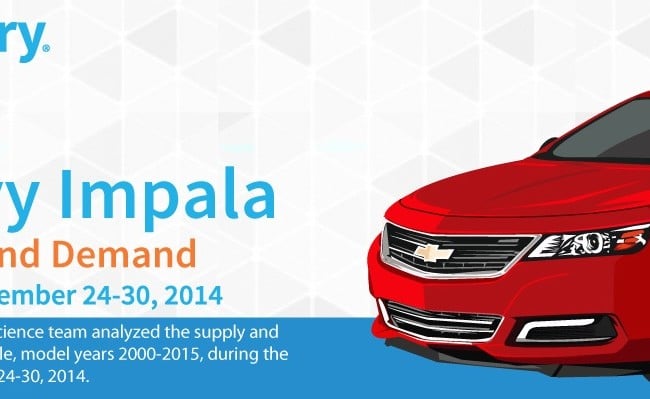 When the Chevrolet Impala first hit the boulevard in 1958, it was a typical 1950s land yacht; drenched in chrome and long—really long. Over the years the Impala has filled many roles, from staring as a hydraulic hopping lowrider in a Snoop Dogg Video to serving as your friendly neighborhood police cruiser. The Impala blurs all social lines.
History of the Chevy Impala
For most of its life, the Impala was offered as both a coupe and four-door. It wasn't until the mid-90s that it was offered exclusively as a sedan. The Impala has always sold well, thanks to its ability to blend utility and style. Unlike most sedans, the Impala has managed to continuously avoid the "old lady car" stereotype, by offering a performance oriented Super Sport (SS) version. The Super Sport, with its unique appearance package and performance upgrades, has kept the Impala in vogue since its introduction.
Strong Sales of The Chevy Impala
Since the very beginning, the Impala has always been a strong seller. To hone in on Impala sales figures, we turn to CarStory whose proprietary database of supply and demand insights is the largest in the automotive industry. While the Impala has been on sale for 57 years, CarStory has chosen to focus on model year 2000 and newer vehicles.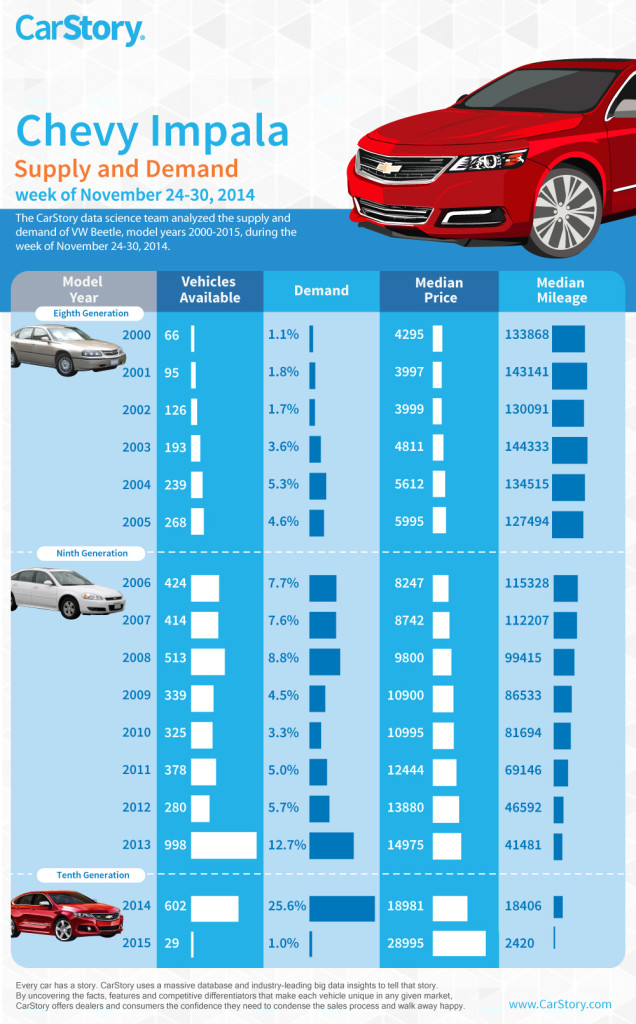 The Impala had always been an all American, rear-wheel drive, V-8 powered brute until 1996 when the last of the rear drivers rolled off the assembly line. Soon after, the Impala took a four year hiatus until being re-released in 2000—as a front-wheel drive. Hot Rodders everywhere voiced disapproval, but front drive offered the improved economy and traction GM was after. An SS model was also made available, with a supercharged V-6 between the frame rails. CarStory found 987 examples of the eighth generation Impala (2000-2005) for sale online, with an average price of $4,784 and 135,574 miles on the odometer. Average demand was 3%.
Ninth Generation Impala (2006-20013)
A facelift, as well as new taillights, marketed the introduction of the ninth generation Impala (2006-2013). The real news was the debut of the 5.3-liter V-8 in SS models, which made the Impala capable of a 5.6 second 0–60-mile-per-hour (0–97 km/h) time and a quarter-mile time of 14.2 seconds traveling at 101 miles per hour. A total of 3671 of these cars were found for sale online with an average price of $10,155 and 81,549 miles on the clock. Average demand came in at 6.9%.
Tenth Generation Impala (Current)
The current, tenth generation Impala, debuted with a bang becoming the first American sedan to earn Consumer Reports top score in 20 years. The front-wheel drive layout remained, but the optional V-8 was replaced by a lineup of four and six-cylinder engines. CarStory located 631 of these cars online with an average price of 23,987.75 and 10,413 miles on the dash. Average demand was 13.3%.
More than half a century and the Chevy Impala is still going strong. It's the go-to sedan. Hey, if it's good enough for rap stars and the fuzz, it's good enough for us.
Dealers, did you know? CarStory is the home of CarStory Market Reports.
CarStory Market Reports:
• are independent research
• merchandise every vehicle (including off-make)
• use local market data
CarStory's goal is to:
• build consumer confidence and
• accelerate purchase decisions
CarStory's proprietary database of supply and demand insights is the largest in the automotive industry. If you haven't already signed up for our free CarStory Market Reports, do it today.