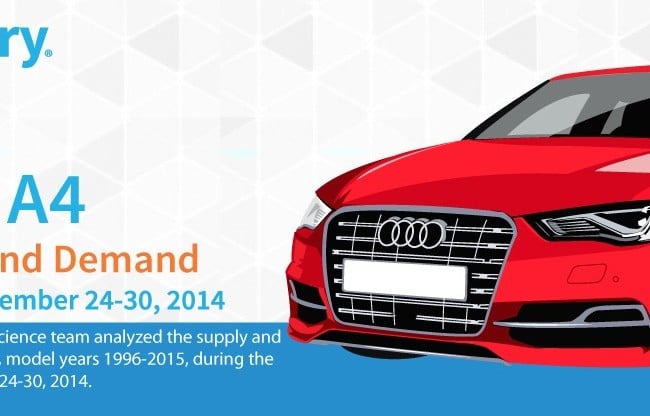 During the 1980s, while the rest of the world was preoccupied with Regan, hair bands and MC Hammer pants, Audi was perfecting their image as a performance brand with a knack for rally racing. The company's first sporty car, simply called the Quattro, was introduced in 1980. Since then, Audi has gone on to produce a plethora of performance oriented all-wheel drive cars, including the A4.
Audi A4 and Volkswagen Development
The A4 is based on the Volkswagen B platform. Each generation has a chassis designation starting with the first generation, B5. The A4 is one of the smaller vehicles in Audi's lineup, and is considered a compact car. Over the years, it has been offered in a variety of body styles including a four-door sedan, wagon, and a two-door cabriolet. While a front-wheel drive layout has always been standard, only a weichei (that's wuss in German) would turn down the legendary Quattro all-wheel drive.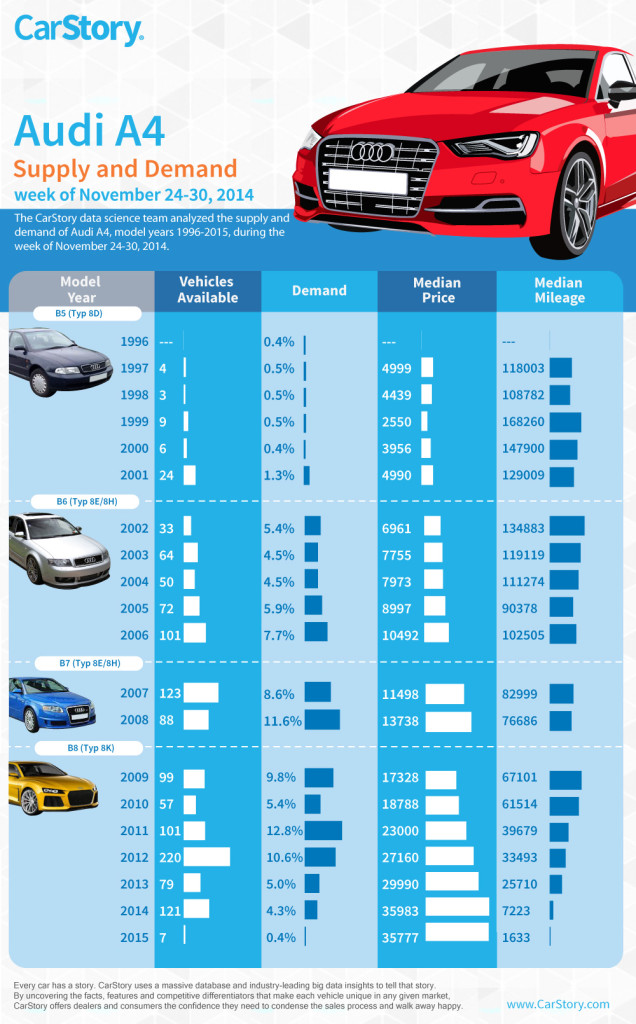 First Generation Audi A4 (1994-2001)
In order to better understand the allure of the A4, CarStory collected sales data beginning with the first generation B5 (1994-2001). A total of 22 of these cars were found for sale online, with an average price of $3,986 and 135,736 miles on the odometer. The median demand is a rather low.45%. German cars – Audis in particular – have never been known for their reliability and longevity, which is probably why demand for aging A4s is quite low.
Second Generation Audi A4 (2001-2006)
The second generation B6 (2001-2006) hit the Autobahn beginning in late 2000. CarStory found 243 of these cars on the 'net with an average price of $7,335 and 116,932 miles on the clock. Median demand for these cars is 4.32% - far better than that of the first generation.
Third Generation Audi A4 (2005-2008)
Next, CarStory took a look at the third generation B7 (2005-2008). These sleek paradigms of German engineering hold their value quite well. The 312 examples found online, commanded an average price of $11,909 with 87,369 miles on the odometer and a median demand of 9.3%. These cars are a virtual bargain – they afford German style at a Kia price, which is probably why demand is so high.
Fourth and Generation Audi A4(2008-present)
Last but not least, is the fourth generation B8 (2008-present). A total of 684 of these cars were listed for sale online. The latest incarnation of the A4 scored an average price of $26,860 with 33,764 miles and a median demand of 6.9%. Apparently, people would rather save their pennies by purchasing a third generation A4, and why not? The average Joe can differentiate a B8 from a B7 about as well as he can distinguish Dr. Pepper. from bargain brand Dr. Thunder (or Dr. Skipper, Dr. Bold – you get the point).
It's been over 20 years since the initial release of the A4 and it's still as popular as ever, proving Quattro will be chic long into the 21st century.
Dealers, did you know? CarStory is the home of CarStory Market Reports.
CarStory Market Reports:
• are independent research
• merchandise every vehicle (including off-make)
• use local market data
CarStory's goal is to:
• build consumer confidence and
• accelerate purchase decisions
CarStory's proprietary database of supply and demand insights is the largest in the automotive industry. If you haven't already signed up for our free CarStory Market Reports, do it today.