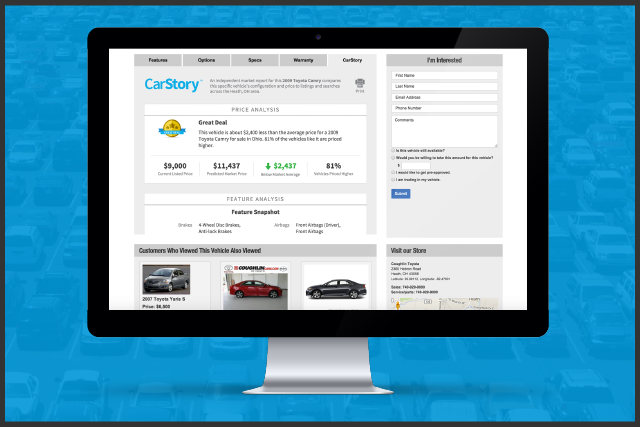 Our product updates are silent but impactful, like an electric car rolling up and tapping you from behind.
You may not have noticed, but the CarStory® Market Reports embedded on your VDPs, have improved quite a bit over the last few weeks. Our team regularly adds enhancements to ensure we are delivering an excellent user experience that's useful, intuitive and enjoyable for your customer. By making it easier for buyers to discover, decide and purchase, we make it more efficient for dealers to promote and move their inventory, closing leaks in the sales process.
Alternatives are back!
Perhaps the most impactful update we made was the re-addition of alternatives to the Reports. Alternatives, part of the original feature set of the Market Reports, required new code to enable linking from one VDP on your site to another. The Reports on your site again offer lower mileage, lower cost and different color options from within your inventory. Take a quick look at your VDPs and make sure the Alternatives are featured. If not, we'll need to get some information from you to enable this feature.
Now, maybe you're saying to yourself: "Self, when did CarStory start embedding their Reports right in the VDPs?" You must have been so busy selling cars that you missed our press release in mid-June.
Do you still use the old version on CarStory Market Reports? Would you like to move to inline Market Reports? Contact one of our account reps and they will provide the new code and walk you through this significant upgrade.
Feature Section Revamped!
We've highlighted the most valuable features according to you, the customer, at the top of the section. Want more? New collapsible feature sets give you all the info you need to determine if this car is a good match shoppers' needs.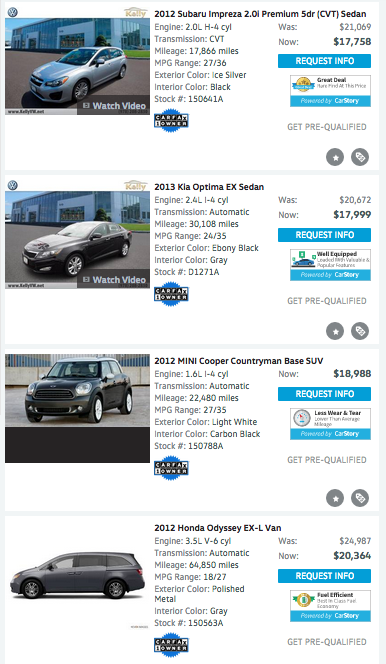 Quick Scan for Value!
CarStory badges on your SRP listings allow the customer to quickly scan the search results for the value driver that means the most to them. Looking for a great deal? Lots of features? Certified pre-owned? Find these vehicles fast and click into the VDP for more CarStory insights
Tell me more!
Enhanced safety information from respected safety agencies showcase vehicles with special safety recognition or features to protect your customers and their loved ones.
CarStory Reports can now be printed for those shoppers who prefer to have hard copies on hand OR for dealers to print and include in the car for sharing with customers as a take-away from the lot.
New supporting links to validate CarStory data as a reputable source for consumers now available in Report footers.
Improved styling to embedded VDPs seamlessly integrate with dealer site.
We're already back at work on more improvements. In the meantime, if you'd like to talk with us about activating alternatives, upgrading to inline reports, or maybe you haven't implemented the Market Reports yet, give us a call! Our Account Reps would be happy to lend a hand.