You are what you drive, right? Stereotypes suggest a middle aged woman might be behind the wheel of VW Beetle, or that a Type A businessman belongs in a BMW 5 Series. But, what does your birth year say about what make you are most likely to own?
Most Popular Car and Trucks By Age
To answer this question, the CarStory Data Science team combined the insights across our used car marketplaces with name and birth data from the Social Security Administration. By analyzing the names of those that submitted leads and creating predictive models to determine age, the CarStory team was able to determine which makes are most popular amongst gray-hairs, and which are trendy with buyers who have never heard of Just for Men.
Infographic: Cadillac Is No Surprise, But What about Jeep?
Of course, no one will be surprised to learn that Cadillac has the oldest buyer demographic. Of course, they are also trying to reposition their brand. It will be interesting to see if they can reverse the trend here. Nissan however, was at the other end of the spectrum, drawing in youthful buyers. Volkswagen was hip with the younger crowd, too.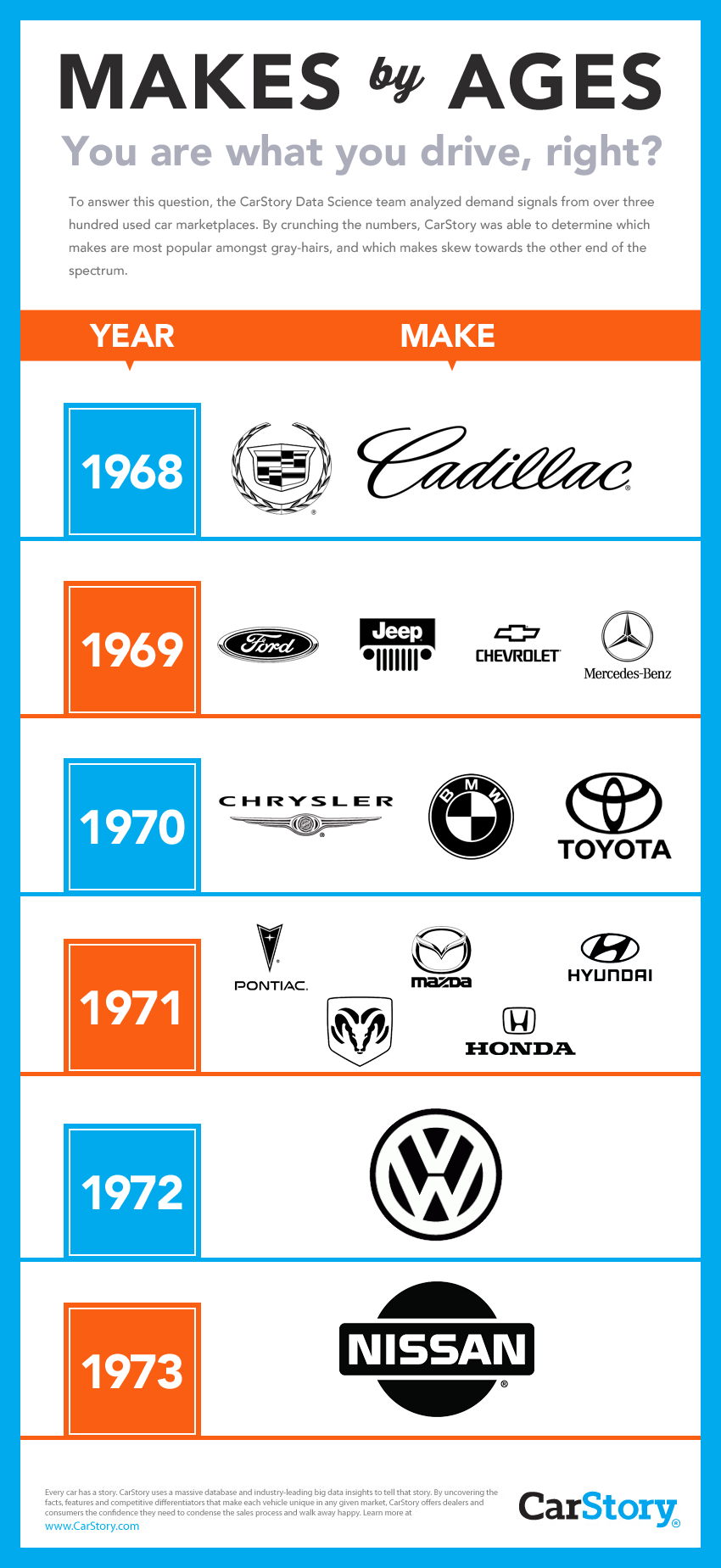 Honda, Dodge, Hyundai, Mazda and Pontiac (even though they no longer make Ponchos) were all tied for the next most youthful spot. Honda is well known for being popular with young people, thanks to their low cost of ownership and ability to squeeze into college campus parking spots. Recently, Mazda has become in vogue with the younger set too, which is why you will often see Mazda 3s and 6s slammed to the ground, sporting rims of exceedingly large diameter. Young people are also known for being keen on Hyundai vehicles.
Dodge has such a wide range of models it's hard to pigeonhole a reason for their demographic. As for Pontiac, after the screaming chicken emblazoned black Trans Ams of the 1970s died out, most people forgot the manufacturer even existed.
Rounding out the middle of the pack, we find Toyota, BMW and Chrysler. These three makes either appeal to middle aged buyers – or they have a wide enough range of models that they draw in both old and young alike, averaging out their demographic. While the later hypothesis may be applicable to Toyota and Chrysler, judging by what we see on the road, BMW does indeed appeal to a middle aged crowd.
Mercedes-Benz, Jeep (surprisingly), Chevrolet and Ford start to slide down the scale towards the older, Cadillac driving set. It's easy to understand why Mercedes appeals to older buyers – their cars are large, comfortable and priced so that the many years of working allow you to own one. Chevy and Ford are a bit more of a mystery and Jeep leaves us scratching our heads in disbelief.
Auto trends are always interesting to analyze. Thanks to the research conducted by the CarStory Data Science Team, you'll know what your purchase says about you when you go to buy your next car. And if you are a dealer interested in taking advantage of our data science to help you sell more cars, feel free to check out our Free CarStory Market Reports.
Dealers, did you know? CarStory is the home of CarStory Market Reports.
CarStory Market Reports:
• are independent research
• merchandise every vehicle (including off-make)
• use local market data
CarStory's goal is to:
• build consumer confidence and
• accelerate purchase decisions
CarStory's proprietary database of supply and demand insights is the largest in the automotive industry. If you haven't already signed up for our free CarStory Market Reports do it today.