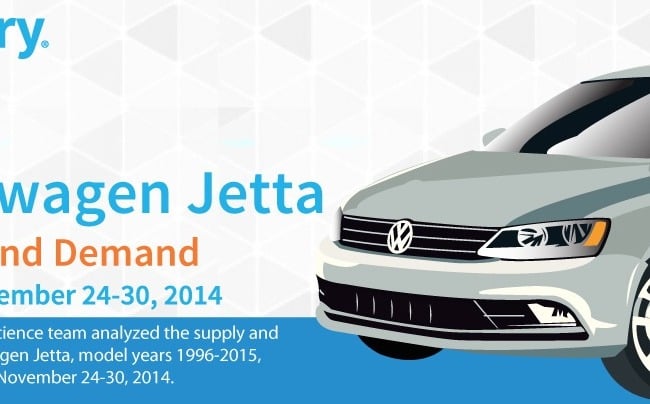 The Volkswagen Jetta is popular – really popular. The Jetta (sold as the Vento or the Bora in certain markets) is Volkswagen's best-selling model worldwide, outdoing both the fashionable Beetle and zippy Golf. The origin of the Volkswagen Jetta dates back to 1979, at the Frankfurt auto show. Since then, the unassuming front-wheel drive sedan has gone on to acquire a cult following and numerous awards.
CarStory Data on the VW Jetta
CarStory, a data analysis company, has done the math regarding Jetta sales figures. To produce these numbers, CarStory draws statistics from the leading automotive sales websites. So, what does the 'net have to say about the past, present and future of Volkswagen's golden boy, the Jetta?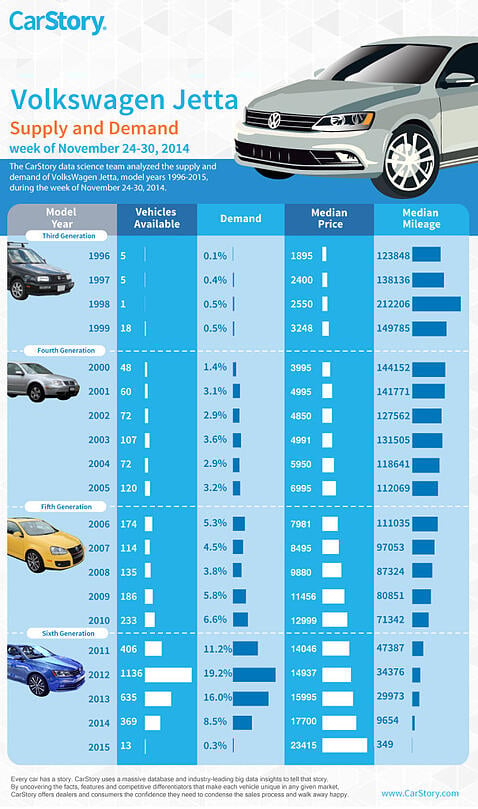 Third Generation VW Jetta
Instead of going back the decade of big hair, punk rock and Ronald Regan, CarStory begins their investigation looking at the later years of Jetta production, starting in 1996. This is the third generation (1992-1999) of Jetta, which due to its age has rather limited availability and demand. Carstory found 29 of these cars for sale with a price of $2,523, 155,993 miles on the odometer and a demand of .375, on average. In other words, these cheap cars are perfect for teens that will, undoubtedly, treat them like bumper cars.
Fourth Generation VW Jetta
A rounded shape and arched roofline define the fourth generation Jetta (1999-2005). CarStory rounded up 479 samples of this German sedan and found, on average, a price of $5,296 with 129,283 miles on the ticker and a demand of 2.85%. Not bad for a decade old car.
Fifth Generation VW Jetta
The fifth generation Jetta (2005-2010), characterized by its fancy chrome grille, began hitting dealership showrooms in 2006. A total of 842 of these cars were found on the market. On average, you'll pay $10,162 to own one with 89,521 miles on it and a demand of 5.2%.
The Current VW Jetta
Finally, we come to the sixth generation Jetta (2011-2015). Being only a few years old, these cars have yet to find their way to junkyard in the sky, and are the most abundant. CarStory located 2,559 of these hot rods for sale with, on average, a price of $17,218 with 24,347 on the odometer and a demand of 11.04%. Whether browsing a car buying website or a dating website, younger with fewer miles is always the most desirable.
For 2015, the Volkswagen Jetta has already racked up numerous awards, including the Insurance Institute for Highway Safety's Top Safety Pick. As long as it stays true to its crowd pleasing formula, the Jetta will continue to be Volkswagen's best seller.
Dealers, did you know? CarStory is the home of CarStory Market Reports.
CarStory Market Reports:
• are independent research
• merchandise every vehicle (including off-make)
• use local market data
CarStory's goal is to:
• build consumer confidence and
• accelerate purchase decisions
CarStory's proprietary database of supply and demand insights is the largest in the automotive industry. If you haven't already signed up for our free CarStory Market Reports do it today.