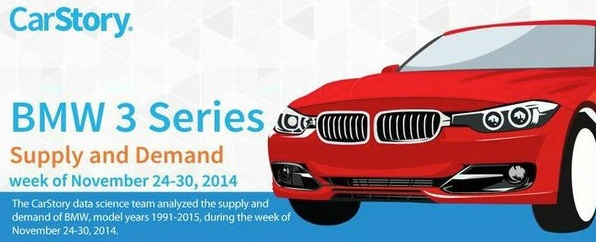 Since 1975, the BMW 3 Series has been the young, trendy professional's admission ticket into the automotive elite. It's the entry-level car every Bimmer owner purchases before splurging on a 5, 6 or 7 Series. Due to its relative affordability, build quality and topnotch engineering, the 3 Series is BMW's bestselling car, accounting for 30% of the company's sales (including motorbikes!).
CarStory's BWM 3 Series Supple and Demand Data
BMW designates each generation of its 3 Series with un-alluring, robotized chassis code such as E21, E30 and F31. To evaluate the last decade or so of 3 Series sales, CarStory analyzed supply and demand data beginning with the third generation E36.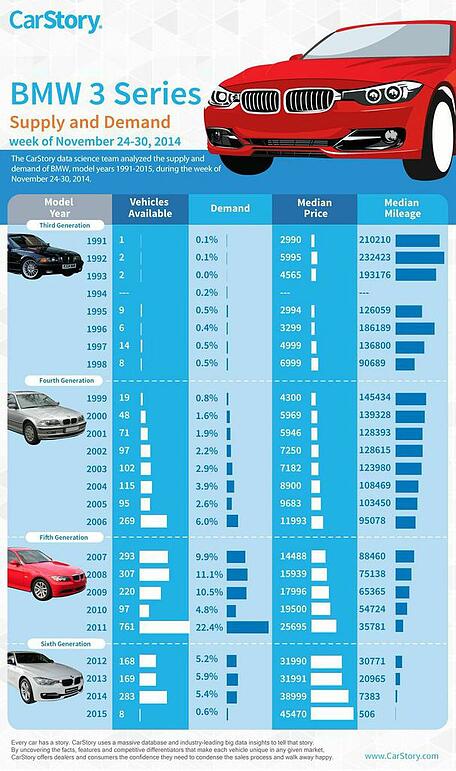 BMW 3 Series E36 3rd Generation Sales
CarStory found 42 examples of the third generation E36 (1991-1998) for sale on the leading automotive websites. On average, these cars command a price of $4,548, have 167,935 miles on the odometer and a demand rate of .33%. The E36 may now inhabit the sale corral at the local 'buy here, pay here' used car lot, but it was a celebrated vehicle during its time. It won rave reviews and even found its way onto Car and Driver Magazine's "10 Best Cars" list.
BMW 3 Series E46 4th Generation Sales
The year 1999 signifies the dawn of the fourth generation E46 (1998-2006). All-wheel drive became an option for the first time since 1990, meaning that 3 Series owners could once again slip on their Ugg boots and motor off to a swanky ski resort. Carstory found 538 examples of these cars for sale. With an average demand of 2.5%, the E46 is significantly more desirable than its predecessor. In addition, these cars still command an average price of $7,488 with a median 122,039 miles showing on the odometer.
BMW 3 Series E90 5th Generation Sales
Next on the list is the fifth generation E90 (2005-2011). These cars are still highly sought after, especially the performance oriented M variants. A total of 1,947 of these vehicles were found for sale in cyberspace, with an average demand of 10.78%. The average selling price of $17,601 with 69,091 miles on the clock reflects the E90's ability to hold its value.
BMW 3 Series F30 6th Generation Sales
BMW decided to make a subtle change with the sixth generation 3 Series (2012-2015). For what on the surface appeared to be no apparent reason, BMW traded in the 'E' chassis nomenclature and decided to designate the sixth generation 3 Series, the F30. Overall, 628 examples of the current 3 Series were found for sale, with an average demand of 7.9%, a price of $34,829 and an odometer reading of 19,081.
The 3 Series makes the goal of owning "ultimate driving machine" attainable for anyone (well almost anyone). For 2015, the 3 Series starts at $32,950 – not bad for a car with over 40 years of engineering and design excellence under its belt. Here's to the next 40, Bimmer.
Dealers, did you know? CarStory is the home of CarStory Market Reports.
CarStory Market Reports:
• are independent research
• merchandise every vehicle (including off-make)
• use local market data
CarStory's goal is to:
• build consumer confidence and
• accelerate purchase decisions
CarStory's proprietary database of supply and demand insights is the largest in the automotive industry. If you haven't already signed up for our free CarStory Market Reports do it today.