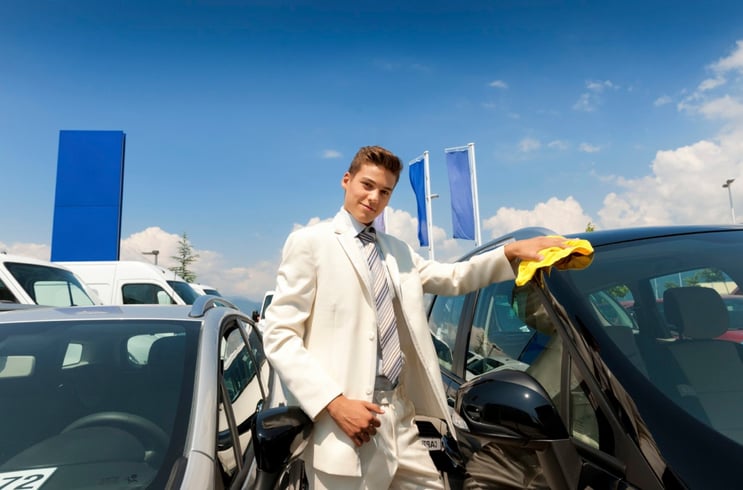 It's tough to be a used car salesman, especially now. Customers become resistant to sales tactics over time and car sales have seen some of the worst fallout. The used car salesman — as well as new cars salesman — suffers from stereotyping. Like most people, used car salesmen are just trying to make a living, but some people have had bad experiences.
Fighting the Used Car Sales Stereotype
So how to you chip away at the car sales stereotype? Treat the customer as you would want to be treated.
Study What Defines the Used Car Sales Stereotype
If you've worked at a used car dealership for any amount of time you've probably become familiar with the types of tricks that contributed to the stereotype. If you're relatively new to selling or buying cars or working at a progressive dealership, you might not be so aware. Essentially, buyers still come into a dealership expecting a bad experience. Here are some of the most common reasons buyers may have issues with new or used car sales people:
The Hard Sell: This one should be obvious. Pushing or forcing a buyer has never created a happy customer, even if it did create car sales. Sometimes people are desperate — they need a new or used car to get to work and earn a living. Too much stress in car selling is never a good thing. Let the customer talk, and then simply listen and ask questions. If they want to buy a car from you, they will.
The Waiting Game: You probably don't have much control over this in car sales. Checking in with your manager takes time, talking to the financing team takes time. But you can make the wait as painless as possible for your customers.
Misleading Information: If something is wrong with the car, be honest about it. Yes, tell your customer, even if they notice the problem with the car. Being honest and upfront will go a long way to beat the stereotype and help you sell cars.
The Value of a Trade-In: When it comes to buying and selling cars, don't pull tricks like overvaluing the car a customer wants, or undervaluing their trade-in to get you to the profit margin you really want.
Hiding Money: Who hasn't heard of the shell game? Don't take money off the sticker price just to deduct it from the trade-in. In fact, don't do anything similar if you want to sell and build trust.
The Bait and Switch: If your dealership creates leads through this technique, you already know how much time it causes you to waste. Customers expecting a certain deal need to receive it, or they're just going to walk. End of story.
Lying: Even the best new car sales people sometimes lie about something. But, really, don't lie — ever.
Consider the Buyer's Intellect, Not Their Emotions
Looking at things from the buyer's perspective is arguably the most important step towards chipping away at the car sale stereotype. But thinking about how a buyer is feeling isn't nearly as effective as considering their intellect — namely, what questions do they ask? When you can come up with great answers to their questions, and use that material to create even more questions on your own, you'll be giving the customer real value. Hanging onto emotions is what advertising does and it causes people to make irrational decisions. But asking real questions, listening, and having conversations, that's the real way to sell and close the deal. Remember: Treat everyone as you'd like to be treated.
Don't Be An Extrovert
Selling cars today takes balance. Being a complete introvert will probably keep you away from even applying to buying and selling cars. But people who are too dominant and talkative often work themselves right out of closing sales and selling cars. Why? Because people that are too extroverted often aren't good at listening. In fact, studies show the best car sales people fall smack dab in the middle of the personality type spectrum. You need to be able to talk and listen.
Those are our top tips to beat the car sales stereotype. If you have any other thoughts, remember you can always tell us in the comments.