The Chevy Silverado truck made Bob Seger famous—ok, well maybe not, but Chevy's 1991 "Like a Rock" campaign did bring Bob into households that had never heard of southern rock before. No matter which classic rocker is crooning over it, General Motors full-size truck, the Silverado, has always been a top seller.
CarStory Chevy Silverado Data and Method
The Silverado name was originally used to denote a trim level package applied to full-size Chevy C/K pickup trucks. It wasn't until 1999 that the Silverado became its own model. CarStory has used data mined from top automotive websites to track sales of GM's full-size rig, since it dropped the confusing C/K nomenclature, and became the Silverado. Only trucks that display the golden bowtie made it into the survey, therefore the Silverado's fraternal twin, the GMC Sierra, is not taken into account.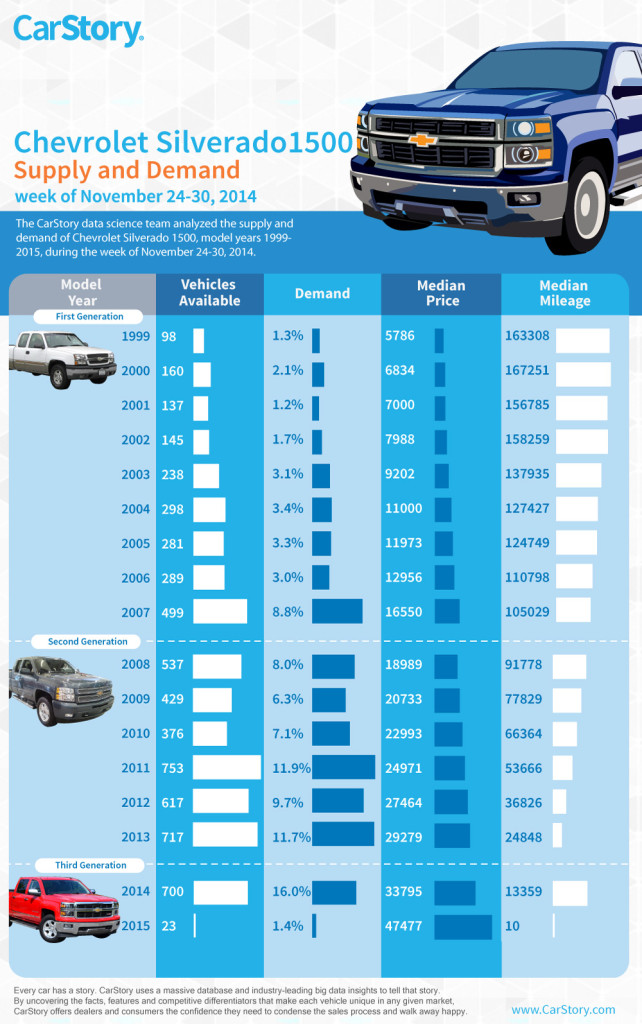 GM Chevy Silverado First Generation (1999-2007)
GM changes the design of its pickups about as often as McDonald's changes its Big Mac, which is to say, almost never. From 1988 to 1999, GM's full-size truck remained unchanged. So, when the General overhauled the C/K platform and released the first generation Silverado (1999-2007) in 1999, it was a big deal. The revamped truck featured a new engine, redesigned chassis and a more aerodynamic body. These rigs are tough as elk beef jerky, so there are many of them are still on the road, and on the selling block. CarStory found 1,935 examples for sale online, with an average price of $9,092 and 143,314 miles on the odometer. Demand for this aging cowboy Cadillac came in at 3.49%.
GM Chevy Silverado Second Generation (2006-2013)
In 2006, Twitter was launched, Pluto was demoted from planet status and the second generation Silverado (2006-2013) hit dealerships across the United States. The second generation Silverado featured a redesigned exterior, interior, frame, and suspension as well as a power increases on certain engines. CarStory found 3,211 of these blue collar haulers for sale with an average price of $21,950 and 71,915 miles on the clock. Demand was 9.13%.
GM Chevy Silverado Second Generation (2013-Present)
The latest iteration of the Chevy Silverado is the third generation (2013-present). For 2013, the chassis, interior and exterior of the Silverado were completely redesigned. The 6.2L engine (yes, the same one that powers the Corvette—albeit a detuned version) was also made available between the truck's frame rails. The third generation Silverado veers away from Stetson hats and cowboy boots and puts on a more sophisticated, refined demeanor. These trucks can work as hard as their predecessors, yet are as comfortable as the family sedan. As such, they are highly sought after. The 1,440 specimens found up for barter on the 'net, command an average price of $36,850 with 12,730 miles on the ticker. That's quite a bit of dough for a used vehicle— you could buy 3 new Nissan Versas for that price and still have money left over for lunch. Demand for the newest Silverado is high too, with an average of 9.7%.
A Silverado is always desirable—no matter how many dents cover the body, or muddy work boot stains coat the floor. These trucks are dependable workhorses that are built, well, like a Rock. So, hold a lighter up for Bob Seger.
Dealers, did you know? CarStory is the home of CarStory Market Reports.
CarStory Market Reports:
• are independent research
• merchandise every vehicle (including off-make)
• use local market data
CarStory's goal is to:
• build consumer confidence and
• accelerate purchase decisions
CarStory's proprietary database of supply and demand insights is the largest in the automotive industry. If you haven't already signed up for our free CarStory Market Reports do it today.