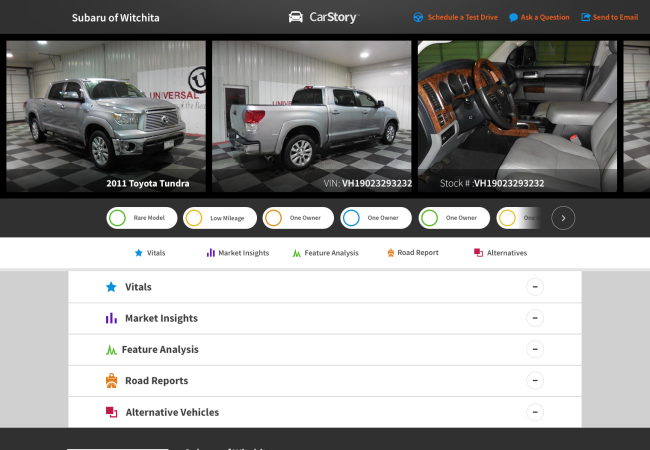 New CarStory Market Reports: Free and Online
Auto dealers, consumers gain access to better, quicker vehicle selection and purchase decisions.
Austin, Texas, October 11, 2014 – Vast announced today that the company's new CarStory Market Reports, developed from industry-leading data models that analyze more than 100 million used vehicle searches, are now available for free to auto dealers, marketplaces and consumers alike.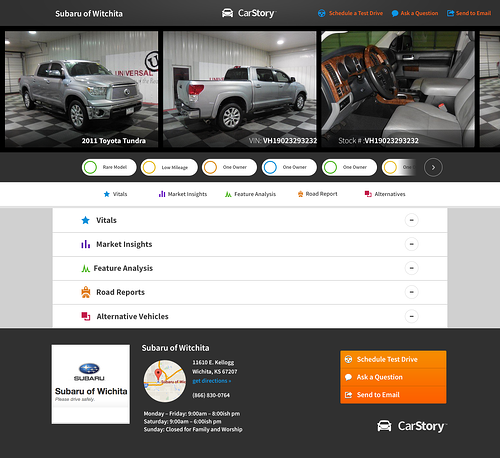 Studies show that on average, consumers consult as many as 24 sources before entering a dealership. CarStory Market Reports offer accurate, synthesized information that helps these consumers and the dealers who are assisting them in their decision. Market Reports provide information about each vehicle's value based on supply, demand, and market features, showing consumers what is special about a particular vehicle while offering dealers a way to differentiate themselves, build confidence and accelerate sales.
"CarStory Market Reports are built for simplicity so that they both enhance and accelerate the car buying process," explains DealerKnows Consulting President and Founder Joe Webb. "This helps with the 'analysis paralysis' that happens to many consumers who are inundated with too many automotive resource sites." Webb cites Market Reports' ability to highlight unique, noteworthy features as the "silver bullet" that helps build confidence in both the consumer and the dealer, ultimately closing deals far more efficiently than before.
Tom White Jr., General Manager of launch partner, Subaru of Wichita, agrees. "We are always looking for innovative ways to differentiate our process, and CarStory Market Reports are no exception," explains White. "We're using them to drive more leads and showroom appointments. And you can't beat the price," adds White, who finds the reports more effective than competitive offerings that cost hundreds of dollars per month.
"Our data has long been the best in the industry," says Vast CEO, John Price. "We are thrilled that we can now bring that data to such a broad audience of people who can benefit from it." CarStory Market Reports are being offered, dealer-branded, for free to those dealerships who sign up before the end of the year. The market reports are also being featured on inventory listing sites online. Signup is simple and can be completed at http://carstory.com/marketreports.
About CarStory
Every car has a story. CarStory uses a massive database and industry-leading big data insights to tell that story. By uncovering the facts, features and competitive differentiators that make each vehicle unique in any given market, CarStory offers dealers and consumers the confidence they need to condense the sales process and walk away happy. Learn more at CarStory.com.
About Vast
Vast is the premier provider of big data solutions for life's biggest purchases. Vast's industry-leading big data platform and applications are currently in use at many of the largest automotive, real estate and travel businesses in the world. Vast serves Global 1000 companies such as AOL and Southwest Airlines, and powers more than 300 automotive marketplaces. Learn more at Vast.com.