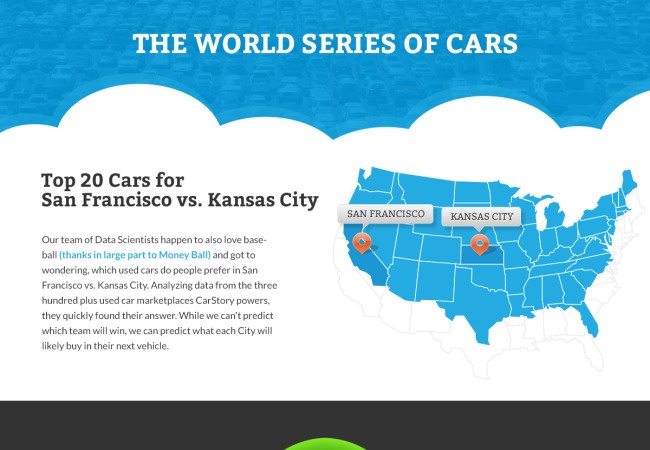 Break out the peanuts and Cracker Jacks again – its World Series time. This year the Kansas City Royals will be duking it out with the San Francisco Giants. Both teams have a loyal following of enthusiastic fans, to say the least. We know SF aficionados dig Madison Bumgarner, and KC is all about James Shields, but what kind of cars are they interested in?
CarStory World Series Data
The CarStory Data Scientists worked their magic and analyzed millions of car searches from these two great cities to come up with the answer.

Top Car Searches: Kansas City vs. San Francisco
First, we will cross the Golden Gate Bridge to check out what people in San Francisco are looking for – besides free parking, that is. Given the fact that the streets of SF are skinnier than Selma Blair, it's no surprise that a compact car ranks at the top of the list. The well-loved Honda Civic is number one in the city by the bay. Toyota Tacoma comes in number two, which makes sense because although it's a truck, it's still a compact truck. Plus, Tacoma's are well-loved by the Haight-Ashbury hippy crowd.
In Kansas City they dig full-size trucks, especially the Ford F-150, which ranks at the top of the list. Apparently KC dwellers have more room to spread out and drive vehicles of generous proportions. SF residents don't have that luxury since they live on a tiny sliver of land, inhabited by throngs of people. Runner up on the list for KC is the trail-worthy Jeep Wrangler.
Here are the top twenty vehicles searched by both cities:
San Francisco
Honda Civic
Toyota Tacoma
BMW 3 Series
Jeep Wrangler
Ford Mustang
Ford F-150
Honda Accord
Honda CRV
Acura NSX
Toyota Camry
Chevrolet Camaro
Dodge Charger
BMW 5 Series
Chevrolet Corvette
Toyota Highlander
Toyota Corolla
Toyota Prius
Dodge Challenger
Lexus RX
Subaru Impreza
Kansas City
Ford F-150
Jeep Wrangler
Ford Mustang
Toyota Tacoma
Jeep Grand Cherokee
Dodge Charger
Chevrolet Silverado
Chevrolet Camaro
Chevrolet Corvette
Toyota Highlander
Ford Escape
Dodge Magnum
Toyota Camry
Toyota 4Runner
Toyota RAV4
Dodge Ram
Honda Accord
Chevrolet Tahoe
Cadillac Escalade
Chevrolet Impala
Overall, San Francisco had three trucks, four sports cars, three SUVs, three compact cars, six sedans and one hybrid on their list. Kansas City had five trucks, four sports cars, seven SUVs, one wagon and three sedans. Its obvious San Francisco prefers smaller, greener vehicles than Kansas City (not a surprise).
We've seen which manufacturer ranks #1 in demand in both SF and KS. Now, we just have to wait and see which team is number one in the World Series. Honestly, it doesn't really matter who wins – as long as there's ball park snacks to munch on, everyone's happy. Play ball!
Dealers, did you know? CarStory is the home of CarStory Market Reports.
CarStory Market Reports:
• are independent research
• merchandise every vehicle (including off-make)
• use local market data
CarStory's goal is to:
• build consumer confidence and
• accelerate purchase decisions
CarStory's proprietary database of supply and demand insights is the largest in the automotive industry. If you haven't already signed up for our free CarStory Market Reports do it today.