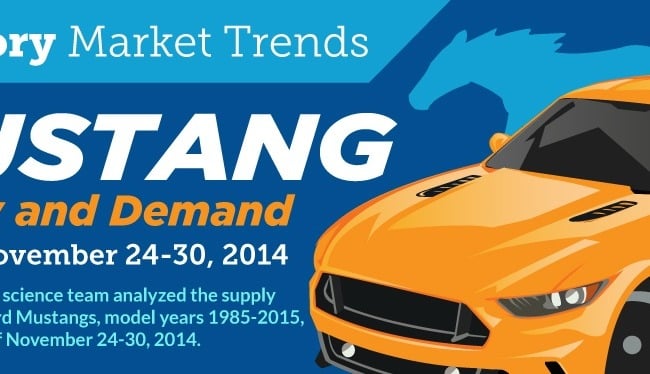 Ford Mustang Supply and Demand Infographic
Few vehicles are more American than the car that started the 'pony wars', the Ford Mustang. This quintessential muscle car has taken on many forms, including coupe, convertible, notchback and hatchback. It's run the gamut as far as power trains go too, having been propelled by everything from a turbocharged four-cylinder to a thundering big block V-8.
Background of the Ford Mustang
The Mustang debuted during the time of the Vietnam War, Lyndon Johnson and Beatles. The year was 1964 – and a half, which pushes the 50th Anniversary of the Mustang over into 2015. So, just how has the 'Stang held up over the last half a century?
Well, to start with, over 8 million Mustangs have been sold since the first pony left Ford's stable back in the 1960s. Sure, McDonalds sells that many Big Macs in just a few days and Starbucks probably sells that many cups of coffee in just a few hours, but as far muscle cars are concerned, the Mustang is a best seller. Using information drawn from some of the most prominent car websites, CarStory's data science team was able to determine current supply and demand for the Mustang, model years 1985 – 2015. The numbers paint an interesting picture.
Fox Body Mustangs
Not surprisingly, there aren't many third generation (1979-1993) Mustangs for sale. These cars, known as 'fox bodies', were based on the longer Fox platform, initially developed for the 1978 Ford Fairmont. Because of their age, supply of these vehicles is low, and so is demand. There were only 14 of these cars available for sale through the websites that were pooled. Demand is around .4% with an average price of $4,347 and an odometer reading of 101,371 miles. Apparently, aged vehicles that break as often as young people check their phones, (that's once every 10 minutes, in case you were wondering) don't have much allure.
Fourth and Fifth Generation Ford Mustangs
Next up, CarStory looked at fourth generation (1994-2004) Mustang sales. The fourth generation was based on an updated version of the rear-wheel drive Fox platform called "Fox-4." Many consider this the first modern Mustang in both function and design. There are more of these ponies on the road than the previous generation, and demand is greater thanks to improved construction and reliability. Out of the 514 four-generation mustangs available on various websites, average demand is 2%, with a median price of $6,845 and 124, 589 miles on the clock.
The fifth-generation (2005-2014) Mustang made its debut in 2005. This generation of vehicles was based on the new D2C platform and is known for its retro-styling, which employs design cues from the fastback models of the late-1960s. There are more of these Mustangs for sale than any of the other generations polled. CarStory found 2,157 of these cars for sale, with an average demand of 72.8%, a median price of $16,419 and 54,733 miles on the ticker.
Current 2015 Ford Mustangs
Finally, the sixth and most current generation Mustang, was unveiled in 2015. The aesthetics of the new Mustang have been tweaked from the previous generation, and a host of technical improvements have been made. Since these rides are brand spankin' new, there aren't many of them to be had. CarStory found only 13 for sale with a demand of 3.3%, average price of $27,900 and an odometer reading of just 635 miles. These creampuffs still have that new car smell – as opposed to used car funk.
With over 50 years under its Pirelli tires, the Mustang continues to be a top seller and a crowd favorite. With the debut of the functional and beautiful 2015 model, the pony car won't be put out to pasture anytime soon.
Dealers, did you know? CarStory is the home of CarStory Market Reports.
CarStory Market Reports:
• are independent research
• merchandise every vehicle (including off-make)
• use local market data
CarStory's goal is to:
• build consumer confidence and
• accelerate purchase decisions
CarStory's proprietary database of supply and demand insights is the largest in the automotive industry. If you haven't already signed up for our free CarStory Market Reports do it today.