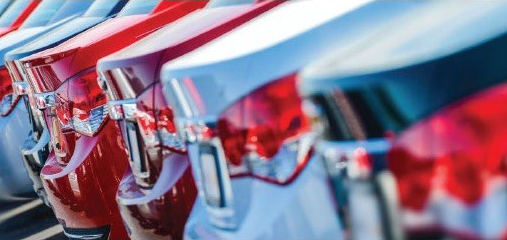 Carstory is stirring up a lot of noise in the auto industry, check out what everyone is talking about
10/03/2017 - CarStory Delivers AI Insights to Flick Fusion
CarStory, the automotive AI platform from Vast, today announced a partnership with Flick Fusion Video Marketing. An industry first, the partnership combines CarStory's AI-based insights for the automotive industry with Flick Fusion's video marketing platform, SMARTFLICKS. Dealers can now automatically receive CarStory branded videos and have them added to their inventory for no additional charge...
9/20/2017 - CarStory Adds Predictive Analytic Tool to Platform
CarStory, the automotive AI platform from Vast, unveiled CarStory Insights, a new feature designed to predict when cars will sell and for how much...
9/20/2017 - CarStory's New Analytic Tool
9/19/2017 - CarStory Makes Predictions Via AI, Machine Learning
9/13/2017 - Former KBB CEO Talks Goals as New Vast Board Member
Paul Johnson, who was at the helm of Kelley Blue Book from 1999 to 2012, had known the folks at Vast from his KBB days. In fact, Vast — which many may know now as the parent company behind the CarStory Platform — had powered KBB's The Trusted Marketplace when it launched in 2009...
8/23/2017 - Vast Adds Former KBB President and CEO to Board
8/23/2017 - Paul Johnson (former KBB CEO) Joins Board at Vast
7/21/2017 - Vast's John Price Talks About the Evolution of Austin's Tech Industry
John Price went to the University of Texas in the early 1980s before there was a tech scene in Austin. He left for a job at Shell and ended up in Silicon Valley. But he always wanted to return. Price spoke about the evolution of Austin's technology industry with Silicon Hills News for its Ideas to Invoices podcast last week...
6/29/2017 - How is CarStory Bringing AI to the Business of Selling Cars
Austin-based Vast has been in the automotive market for over a decade, powering the automotive information behind many, consumer websites. Recently, the company introduced new, artificial intelligence tools on its consumer platform, CarStory, which it says can help consumers make more confident decisions about their car purchase. We caught up with Chad Bockius, Chief Product Officer and Chief Marketing Officer at the company, to learn more about that push into AI, and how this all came about...
6/16/2017 - CarStory Revamps Solution to Keep Mobile Shoppers on VDP's
CarStory has released an enhanced version of its Market Reports that is designed to heighten mobile shopper engagement on VDP's, according to the artificial intelligence platform's creator Chad Bockius...
6/15/2017 - Vast Unveils New CarStory Market Reports to Power AI-Driven Car Sales
CarStory, Vast's automotive AI platform, today announced an enhanced version of its Market Reports. The new CarStory Market Reports give customers a complete pricing, condition and feature analysis to discover and decide on the right car—in real-time, on any mobile device.
6/15/2017 - Dealers Getting More AI-Driven Car Sales From CarStory Report
4/25/2017 - Jumpstart Automotive Media Announces Exclusive Advertising Partnership With CarStory
Jumpstart Automotive Media, a leading media, insights, and marketing solutions company, today announced an exclusive ad sales representation agreement with CarStory®, a website and app that matches car shoppers with the right vehicle using patented technology and industry-leading data sets...