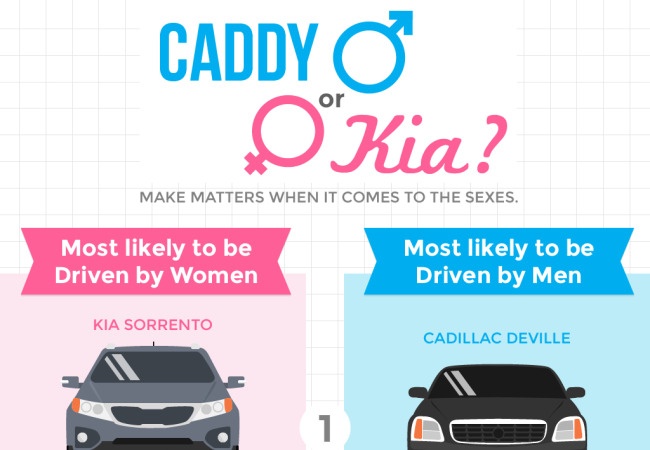 Men and women have significant differences when it comes to preferences in used cars. We analyzed demand across our 300+ used car marketplaces to see what the sexes prefer. Our research has turned out lists of the top ten vehicles most likely driven by men and women, and not a single model crosses over from one list to the other.
Caddy or Kia: Our Used Car Data
Women tended to prefer small or midsize vehicles from value manufacturers like Kia and Hyundai, while men's preferences gravitated toward larger vehicles or sports cars from luxury brands like Porsche and Cadillac.

Top Used Vehicles for Women
1 - Kia Sorento
The Kia Sorento, a crossover-style SUV introduced in 2003, topped our list of the most popular used cars for women. Since its launch, the Sorento has featured a high-powered engine either standard or as an option, as well as an excellent warranty from Kia. A change introduced in 2011 led to a smaller Sorento that provides better fuel economy and improved handling over the larger first-generation models. The new models also offer better power and a nicer interior than their older counterparts. Third-generation used Sorentos can sell for well over $10,000, but the older vehicles are often available at low prices, like many of the most popular used vehicles for women.
2 - Saturn Vue
Another smaller SUV, the Vue was discontinued in 2009 after GM shut down Saturn. The car can be found for less than $5,000, which may contribute to its popularity. The first-generation Vue, which was produced through the 2007 model year, didn't distinguish itself much among car critics. But the 2008 and 2009 Vues borrowed design elements from a European SUV and won more acclaim.
3 - Chevrolet Aveo
Chevrolet's Aveo was sold for model years 2004 to 2011 as either a sedan or a hatchback. It helped launch a wave of small cars at low price points that provided good fuel mileage without sacrificing comfort and reliability. The car featured a roomy design and a small, efficient four-cylinder engine throughout its lifespan. Like the Vue, it has always counted a low price as one of its greatest strengths, and its popularity as a used vehicle may reflect that.
The rest of the top ten vehicles for women include the Kia Rio, Volkswagen's Beetle, the Pontiac G6, Mazda's Mazda6, the Chevrolet Cavalier, the Hyundai Accent, and the Hyundai Sonata.
Top Vehicles for Men
1 - Cadillac DeVille
The Cadillac DeVille was sold as a sedan through 2005 and as a coupe through 1993. The car has a classic history that reaches back as far as 1949, and it served as Cadillac's flagship for a long time. The design of the DeVille privileges power, size, and comfort, and the car was often chosen to introduce new technology. Though the DeVille has been discontinued, its history and cachet may contribute to its popularity among men as a used vehicle.
2 - Chevrolet Corvette
One of only a few vehicles at the top of either the men's or women's lists still in production, the Chevrolet Corvette, comes as either a coupe or a convertible and holds distinction as one of the most well-known cars in the United States. The design and specifications of the Corvette vary significantly from year to year and model to model, but the car always features engaging styling, a powerful engine, and the benefit of carrying a highly recognizable name.
3 - Porsche 911
Like the Corvette, the Porsche 911 is still in production and features a very recognizable name and style. The car can be purchased as a coupe or a convertible and is well loved by Porsche purists and sports-car fans alike. While many sports cars can be too finicky for day-to-day use, the 911 delivers incredible performance while maintaining its utility. Late-model versions include a world-first seven-speed transmission, but even the older, 270-horsepower "993" variant produced between 1995 and 1998 offers great value; mint-condition 993s can sell for as much as a brand new 911.
The rest of the top ten most popular used vehicles for men include a mixture of trucks, sports cars, luxury cars, and SUVs. The Lincoln Town Car, Porsche Boxster, BMW M3, Ford F-150, Subaru Impreza, Ford Crown Victoria, and Chevrolet Silverado all made the list.
Dealers, did you know? CarStory is the home of CarStory Market Reports.
CarStory Market Reports:
• are independent research
• merchandise every vehicle (including off-make)
• use local market data
CarStory's goal is to:
• build consumer confidence and
• accelerate purchase decisions
CarStory's proprietary database of supply and demand insights is the largest in the automotive industry. If you haven't already signed up for our free CarStory Market Reports do it today.