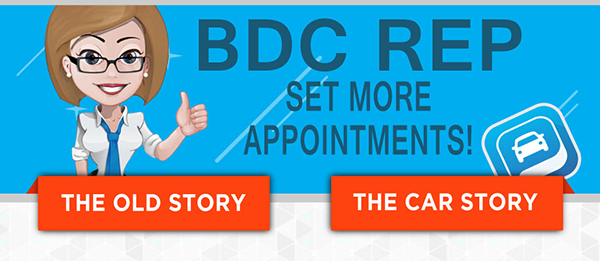 You probably know the old story. With CarStory Market Reports we can help you create a new story.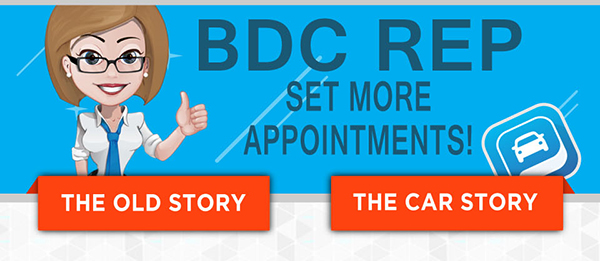 Change The Old Story to the New Story With CarStory Market Reports
Old Story: A customer calls about a specific used vehicle and you scramble to find information. If you are unable to quickly and effectively answer specific questions, he or she becomes impatient and loses confidence in you as a product expert.

The CarStory: You quickly identify the vehicle (either by stock number or by using CarStory's smart search filters) and immediately establish credibility with your customer by promptly delivering compelling vehicle information and local market insights that he or she will not have already discovered elsewhere.
Old Story: During your conversation the customer learns something new about the vehicle that causes him to lose interest (for example, the vehicle does not have warranty coverage remaining). You scramble to capture contact info so you can provide vehicle alternatives from your inventory once you've had an opportunity to perform research, but your customer loses interest and moves on to the next dealer without sharing a phone number or email address for you to follow up.

The CarStory: By leveraging CarStory's intelligent vehicle alternatives you immediately identify other vehicles in your inventory that fit the customer's vehicle profile. This allows you to continue the conversation, and since you've now added value, it also builds your credibility. The customer now views you as someone who can help. In addition, this provides the customer with a reason to consider visiting your store, or, at the very least, to provide you contact information to follow up in the event you are able to add additional value down the road (for example, a vehicle is taken in trade later that day that appears to suit the customers wants and needs).
Old Story: A customer calls about a specific used vehicle and wants to negotiate price. You are taught to get the customer into the dealership, but the customer won't bite. They want an additional $3K off. Take it or leave it.

The CarStory: You explain to the customer that you understand his desire to get a great deal. You let him know that before getting into price, rather than wasting anyone's time, you want to be sure this is actually the right vehicle for him. You ask if you can quickly share a CarStory that will provide valuable information about the vehicle that is not available elsewhere. You collect lead info (phone and/or email) in order the share the CarStory, then you leverage local market insights and top value attributes to validate your price.

The Old Story: You receive a web lead and spend time researching the used vehicle to determine how best to position it. Once you've done this, you devote even more time to crafting an email to your customer.
The CarStory: You immediately send a CarStory by email or text in only a matter of seconds, or take a moment to include additional vehicle photos, a personal message, and/or a brief bio. Additionally, leveraging CarStory alternatives you draw attention to that fact that you have X number of similar vehicles on the lot that may also be of interest. Now you have wowed your customer with your timely, insightful response.
Those are just a few examples of how CarStory Market Reports can help vehicle dealers change the old selling story to a new selling story. If you haven't already signed up for our free CarStory Market Reports do it now.
Dealers, did you know? CarStory is the home of CarStory Market Reports.
CarStory Market Reports:
• are independent research
• merchandise every vehicle (including off-make)
• use local market data
CarStory's goal is to:
• build consumer confidence and
• accelerate purchase decisions
CarStory's proprietary database of supply and demand insights is the largest in the automotive industry. If you haven't already signed up for our free CarStory Market Reports do it today.